If you were to look up a list of things to do in Shibuya, most will highlight the Meiji Jingu Shrine, which was interesting, or the Hachiko dog statue, which is actually a little underwhelming. But I wanted to focus on the attractions we actually enjoyed, not just what the guidebooks say you should see, but what we genuinely loved.
We've also listed them in order of our favourites, so nearer the top, better the activity or experience.
1) Shibuya Sky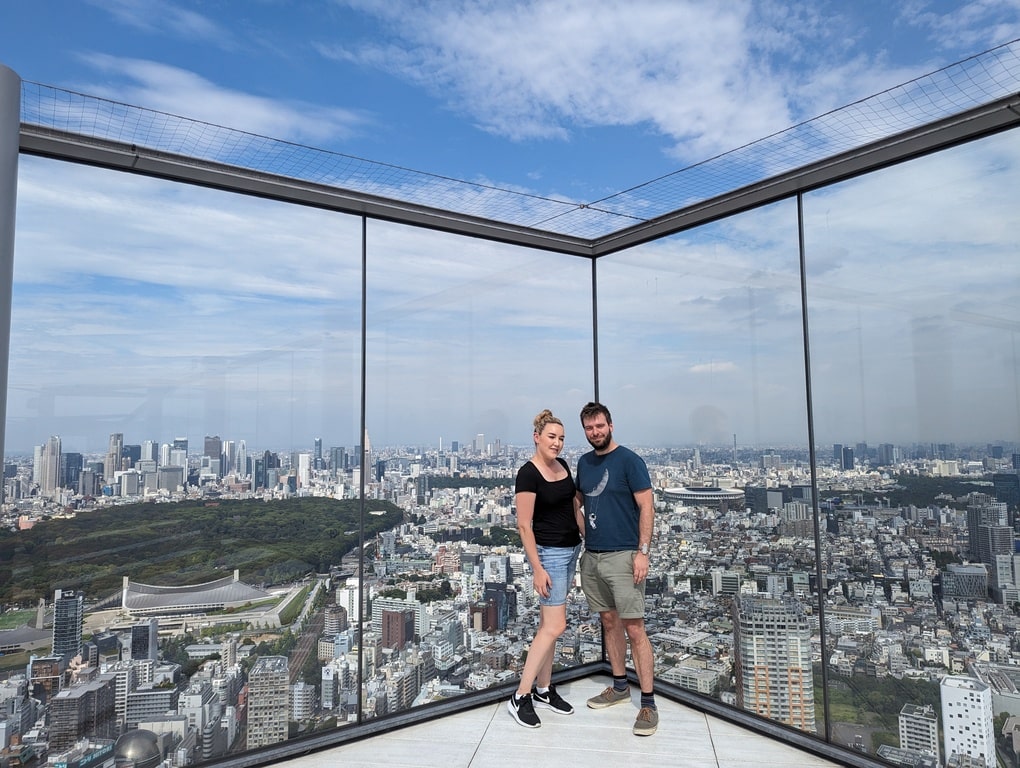 We originally had this booked for day 1 of our trip, but we completely messed up all of our timings and didn't make it, which we were gutted about. Fortunately, we quickly booked it in for our return to Tokyo and I'm so glad we did!
The views across Tokyo are breath-taking. I do wish they offered an audio guide option, as I would love to hear about the different buildings you can see.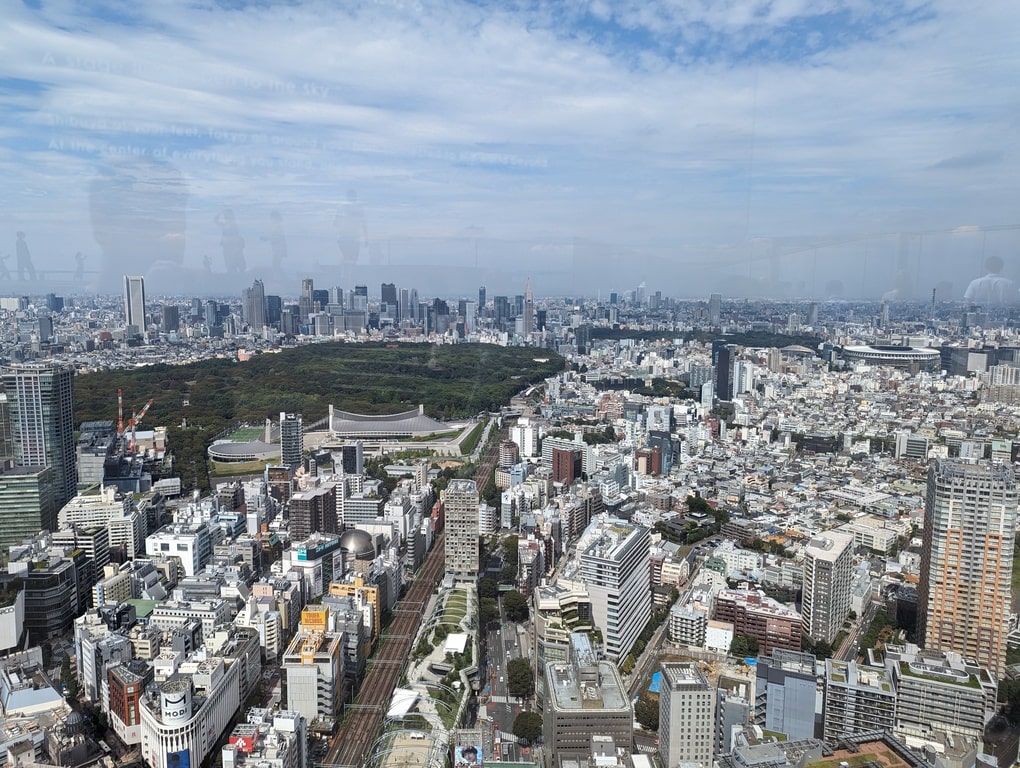 You can walk around the rooftop with 360 views of the city, while as you head inside there is a bar/cafe area so you can stop off for a coffee or a pint.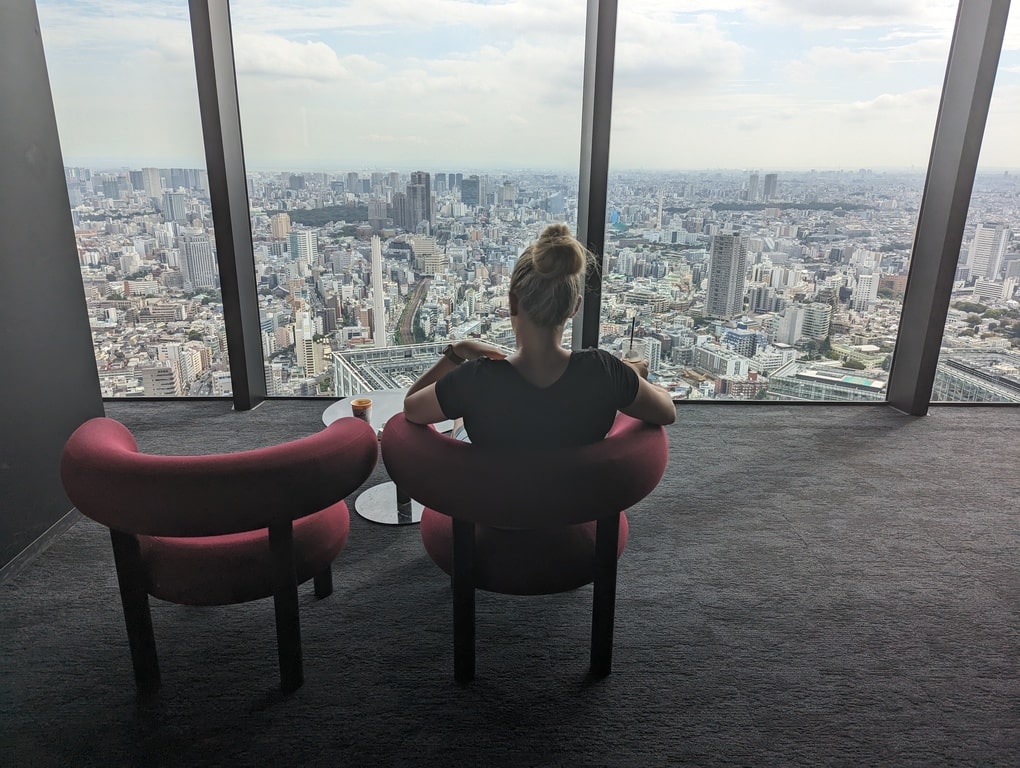 They also had a shop area where we picked up a couple of souvenirs for our family and friends.
The directions to the entrance were a little confusing. It's right by Shibuya train station, but we walked in the wrong section initially before we saw the lift. Wow that lift flies up quickly, we got the true rollercoaster tummy feeling as we shot up. You initially go in a lift up 14 floors, before you switch to the rooftop view lift, which takes you all the way to the top.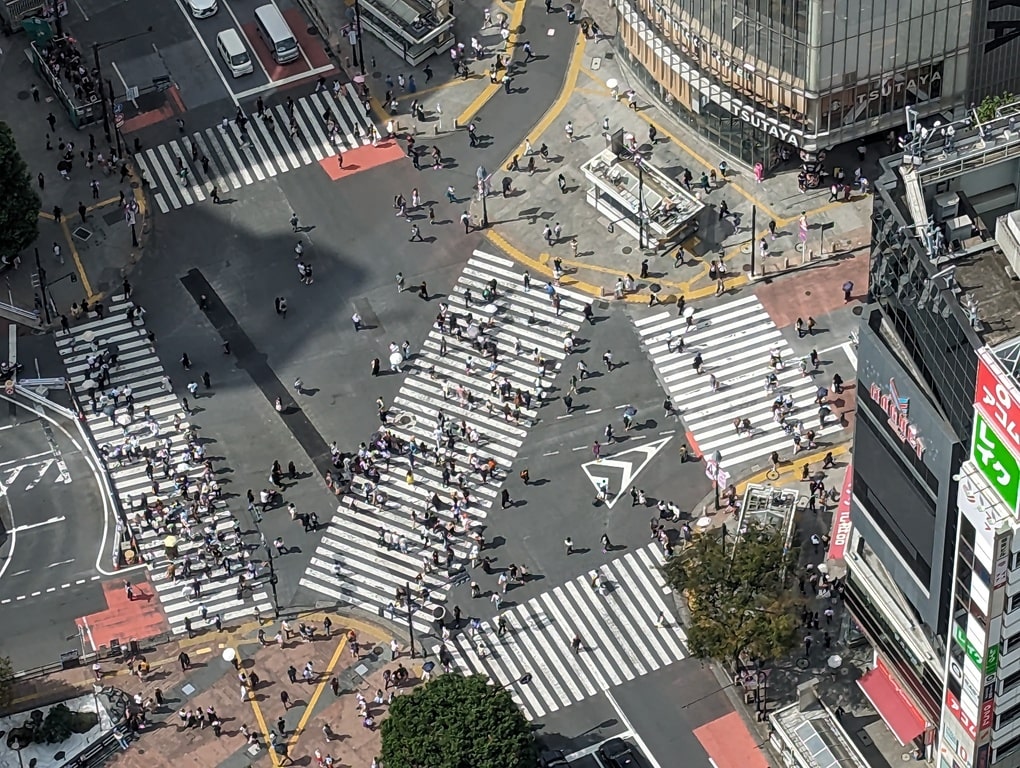 You can also get views of the Shibuya Crossing from above, offering a slightly less manic view of the busy street.
When Should I Book For? So we booked for the day time, due to limited availability at the time we booked, however almost every article recommended around 6pm, around sunset (which is dependent on the time of year).
2) Micro Pig Cafe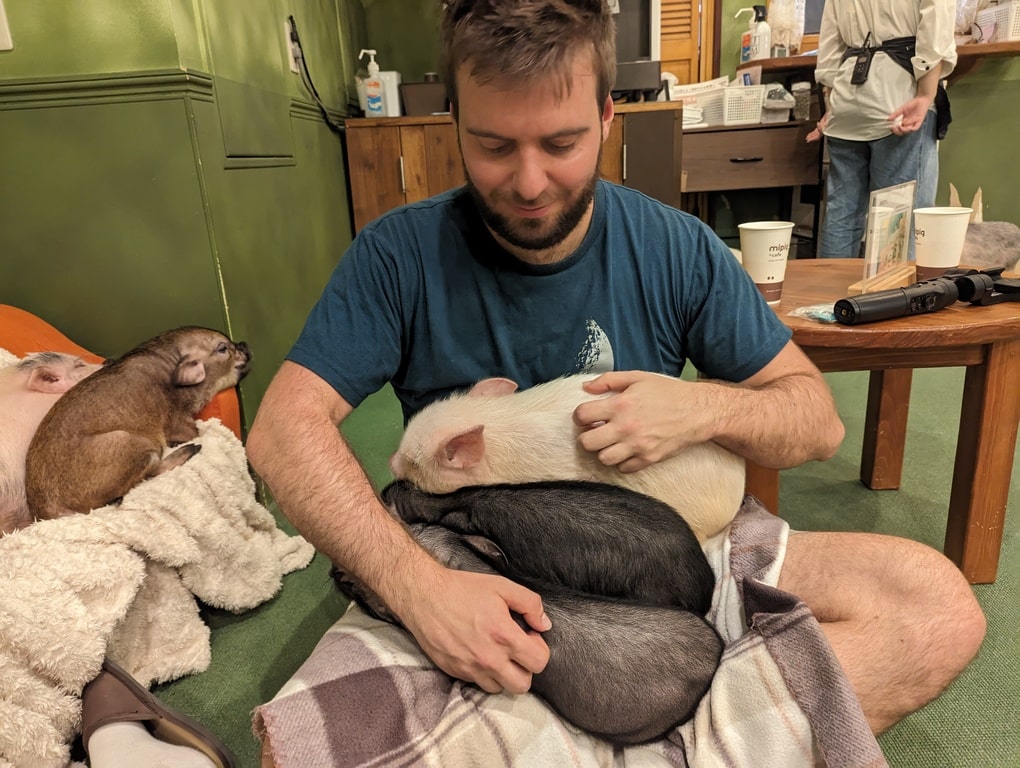 I didn't expect to enjoy myself as much as I did, but this was amazing! The pigs acted like puppies, all wanting to be close, to be held and to be stroked as they napped in your arms.
Some of the pet cafes in Japan made me feel a little awkward, like you questioned how happy the animals are to be there, but the Pig Cafe you felt confident they were loving life as they got cuddled constantly.
The micro pigs are tiny, but there were a few larger ones as well, which I liked as I wanted to give them all a cuddle regardless of their size. However, the bigger ones definitely weighed a fair amount as they climbed onto you.
At one point I had four sleeping on my lap, I simply couldn't wipe the smile off my face.
You have to book in advance, you can't turn up on the day and hope to get in, so make sure to plan this in advance, much like everything in Japan. Some people booked 30 minutes, while we had the full hour and I did feel I wanted more than 30 minutes, so we were very happy with our choice.
3) Henn Na Cafe – Robot Cafe
I was adamant I wanted to see robots when I came to Tokyo, but unfortunately the Robot Restaurant had closed down, while we didn't fit the museum into our itinerary. But I wasn't going to miss out on a robot serving me a latte!
Admittedly, the first time we came along, it was down for maintenance. Apparently this happens quite often, so do be prepared to squeeze in a second visit in case.
We arrived just as the cafe was opening, so this might not be a fair reflection, but we were the only people there, meaning we got to take our time with our order and plenty of videos.
You purchase a ticket for your drink, then scan it, before the robot kicks into gear and starts making your drink of choice, or even your snacks.
The coffee was pretty basic, it's not a high-end coffee, you're paying a premium for the experience, but considering a few people slagged off the coffee, I was pleasantly surprised by the latte, it was nice!
4) Takeshita Street – Rainbow Food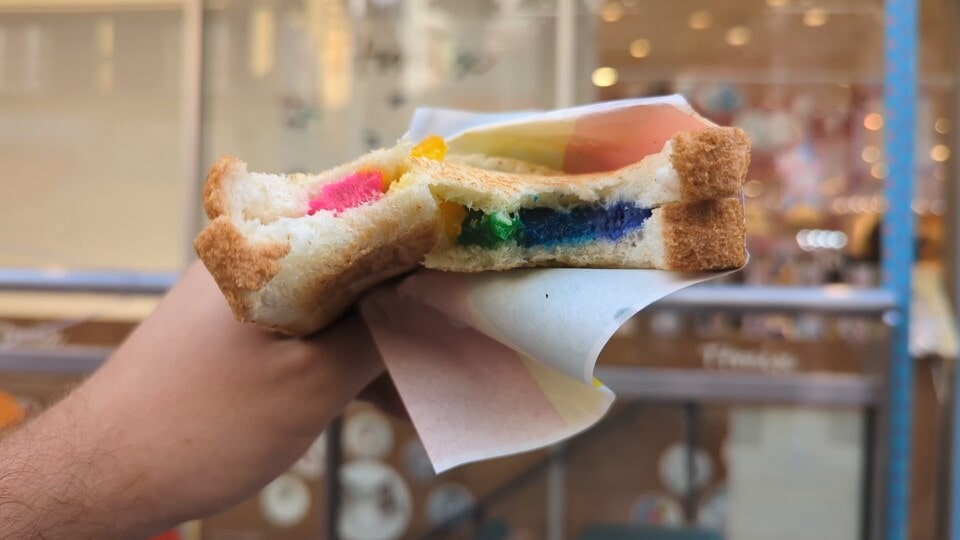 The images and videos of Takeshita street are coated all over YouTube, Instagram and TikTok, with the rainbow coloured food probably being the main attraction.
You will find rainbow coloured cheese toasties (which I had to eat), corn dogs (not so tasty) and candy floss.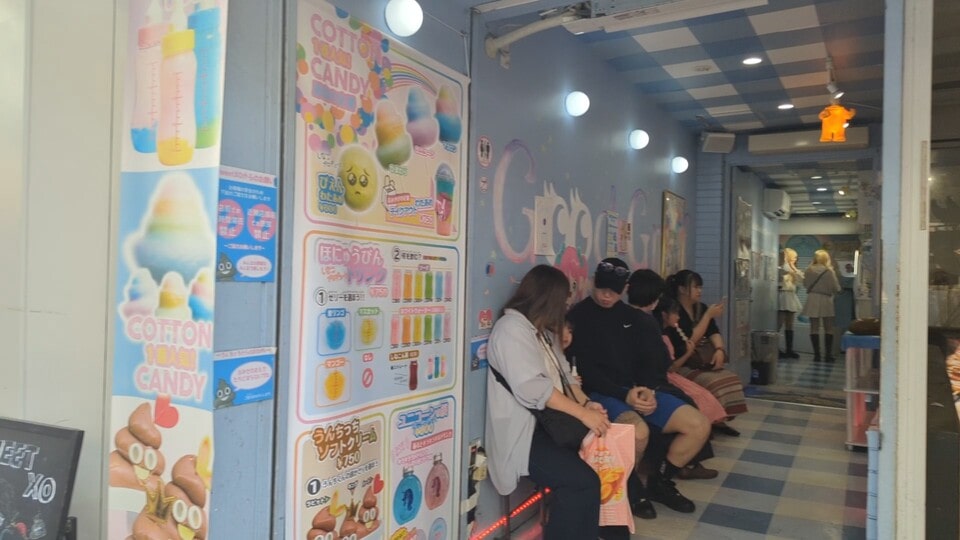 The street is full of life, so even if you don't fancy eating some multi-coloured food, you can enjoy all the whacky shops and bizarre atmosphere.
You will tick this one off pretty quickly, so you realistically only need an hour for this activity, but it's certainly worth including on your list.
The area is actually Harajuku, while you will find a few other activities close by that you might want to tick off on the same day.
5) 3D Billboards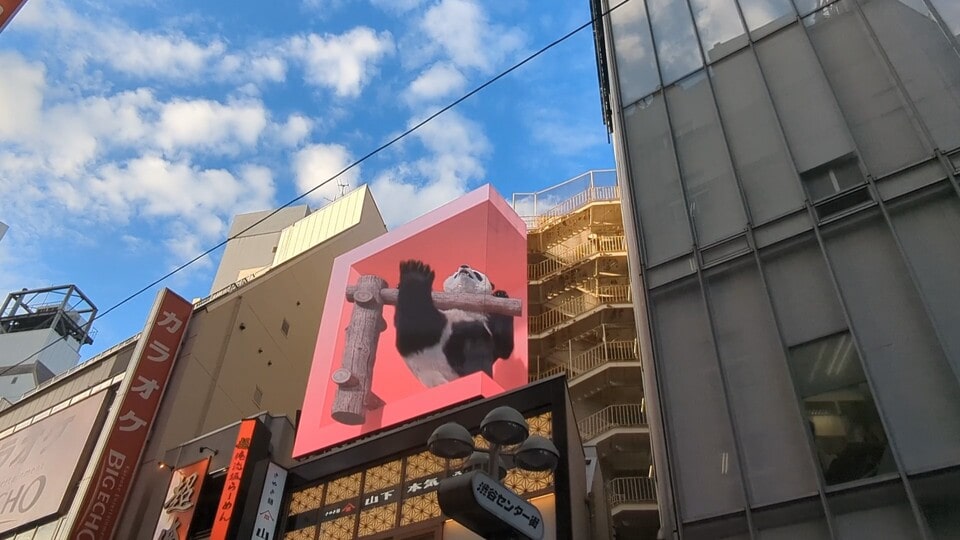 Raquel had spoken about the 3D billboards and initially I didn't see what the excitement was all about, but standing in front of it, I was completely glued to them.
The one negative was that the playful panda was actually advertising a gambling company, which isn't exactly what I wanted to see or promote, but hat's off for the creativity!
There is apparently also a dog and cat 3D billboard, but we didn't spot them. You really do feel like the animals are jumping off the screen as they play games and move around.
6) Shibuya Crossing
Ok, this one has to be ticked off, but I refused to put this too highly on the list, as at the end of the day, you're simply crossing a road.
The Shibuya Scramble Crossing is located right by the train station, while you will spot a lot of tourists walking along with cameras and phones in hand, but be careful to watch where you're going, as it must be frustrating for locals just trying to get to work and to catch their train.
For the best views of the crossing, you could head into the Starbucks, which is located right next to the road and with a higher view, but the seats by the window are taken quickly and you might have to wait a while.
As mentioned earlier in the article, you can enjoy the view from the Shibuya Sky building, as you go towards the exit you are near the window right above, so we made sure to capture a few shots.
7) Have A Drink On The Rooftop Of Shibuya Parco Shopping Centre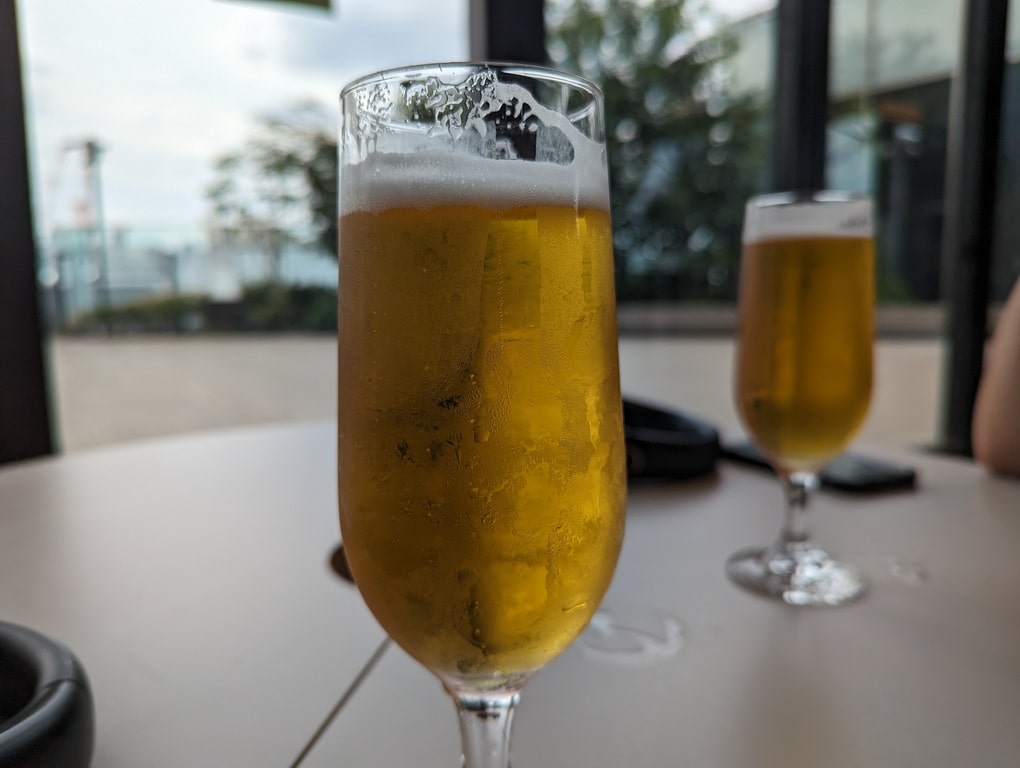 This didn't make any of the lists we found and in fact, we didn't plan on visiting here, but we were aimlessly wondering around and decided to walk in. Wow, I'm glad we did.
This building contained many of the other activities on this list that I will get to, but I first wanted to highlight the bar and garden area at the top.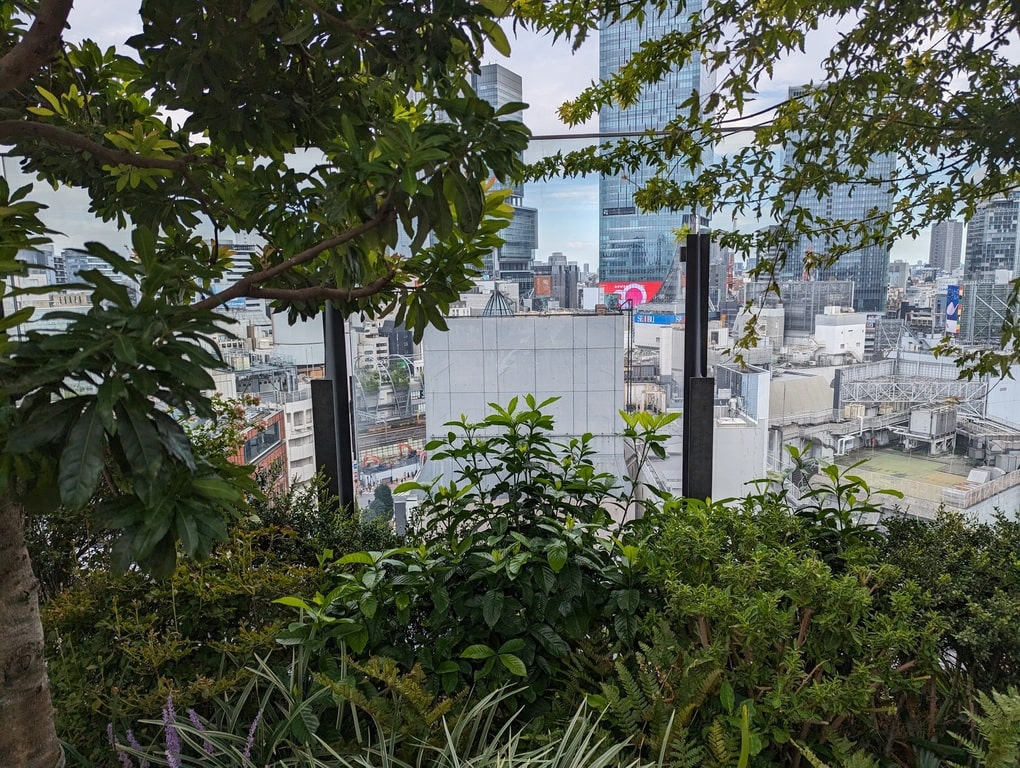 Ordering a beer in Shibuya is scarily expensive, especially considering we had actually found Japan to be cheaper than we expected. But this was probably the best priced pint, which was a shock considering where we were.
You also had the nice garden area, so you could either sit inside in the bar or enjoy the outside air, if weather permitted.
They also had a Table tennis table, which I was eager to play on, but a few kids were having a game.
8) Street Mario Kart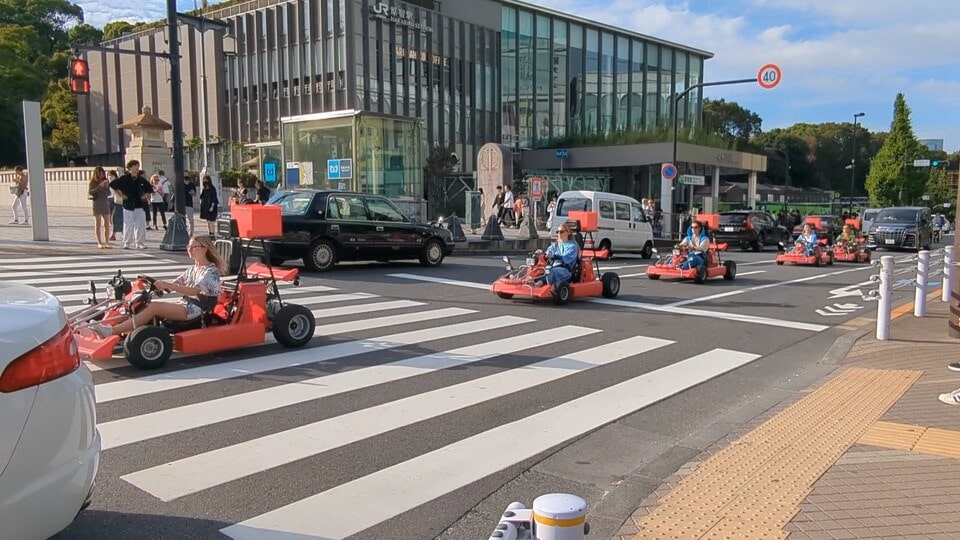 Mario Kart has to be one of the greatest games of all time, so the chance to do it in real life sounds too good to be true.
I unfortunately couldn't try this myself, as you need a driving license and I don't have one (yep, I know).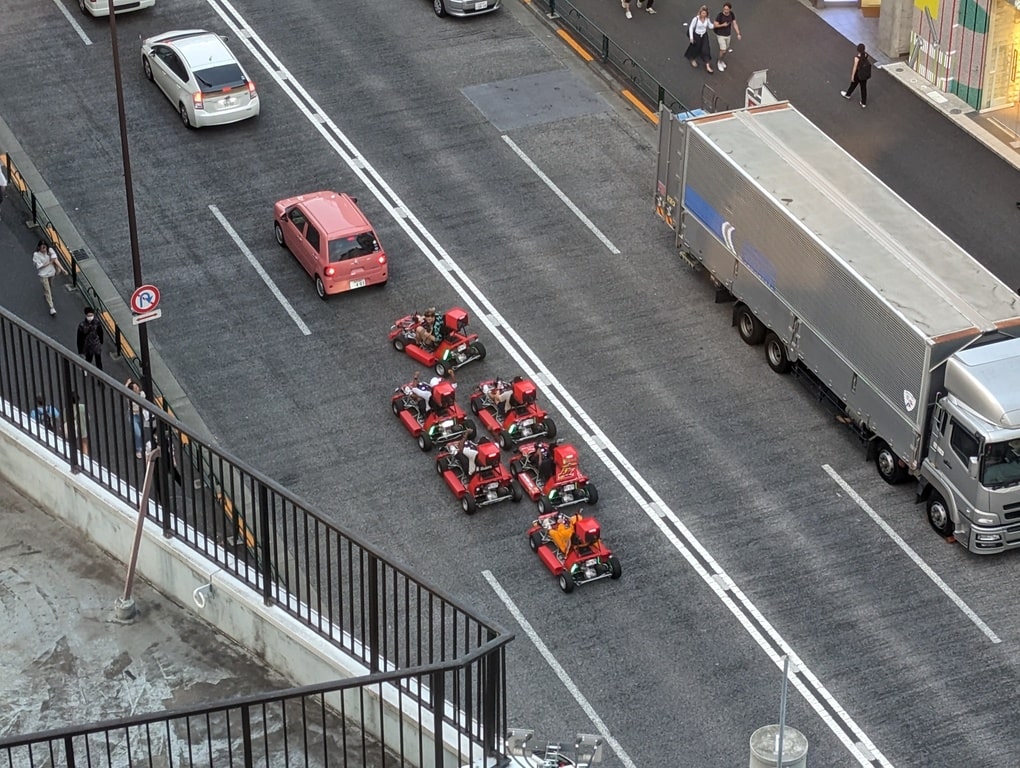 The guide will lead you all around the town on your go-karts. Admittedly, it didn't really feel like Mario Kart, except the karts do look quite similar, but it's not like fancy dress clothing is provided, so unless you've all dressed the part, it really just looks like a bunch of people trying go-karting.
Heads-up, drivers hate the go-karts blocking up the roads and slowing them down, so don't expect people to be looking at you and smiling.
9) Check Out A Pokemon Centre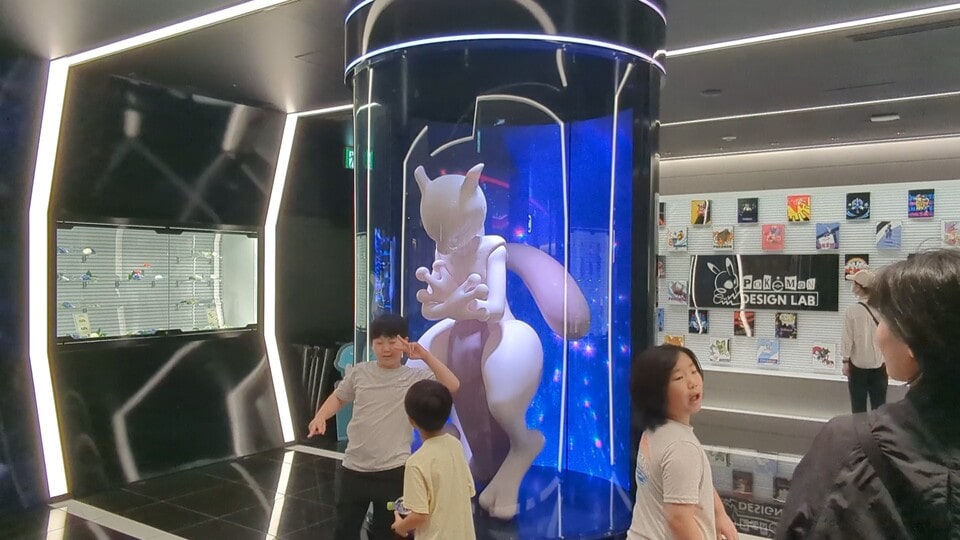 Another legendary game, I loved Pokemon, however I didn't include too many Pokemon based activities for my Japan Itinerary. However, while in the Parco Shopping Centre, we randomly found a Pokemon Centre.
There are apparently a good few dotted across the city. Yes, these technically are glammed-up names for a shop selling Pokemon products, but it did feel quite cool and unique.
If you happen to be in the area, then it might be worth ticking off, but you don't need to go out of your way to do this one.
10) Visit Nintendo Tokyo & Capcom Store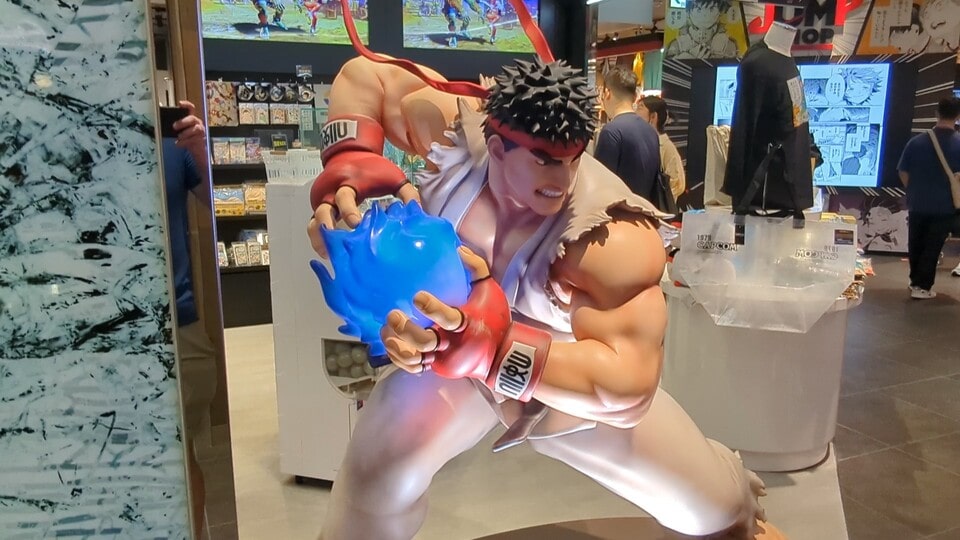 I'm highlighting this, as it's also in the Parco shopping centre, so you can tick off another activity on the same day. The stores felt quite fun and vibrant, while they also had life-size models that you can get photos with.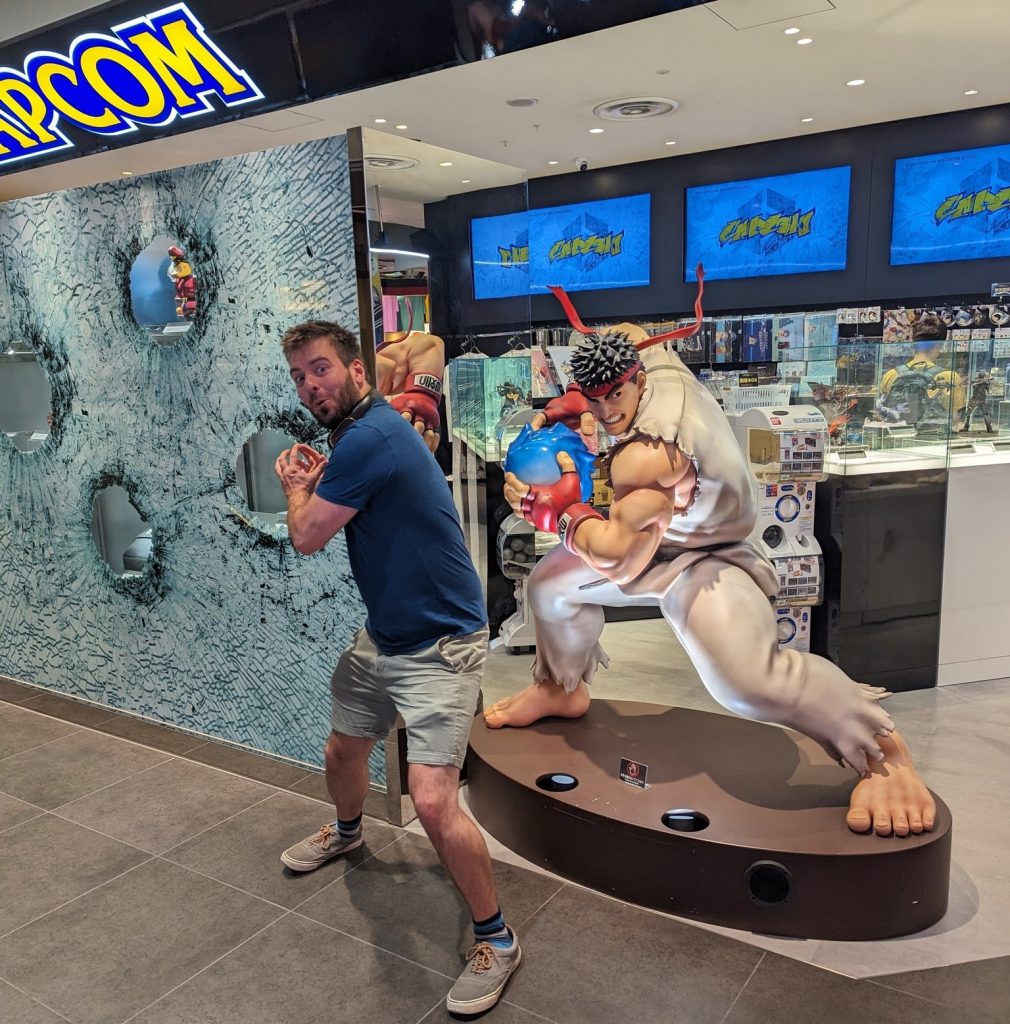 It was really lively here, while it was people of all ages enjoying the experience, plus there were a few games setup for people to try out before buying.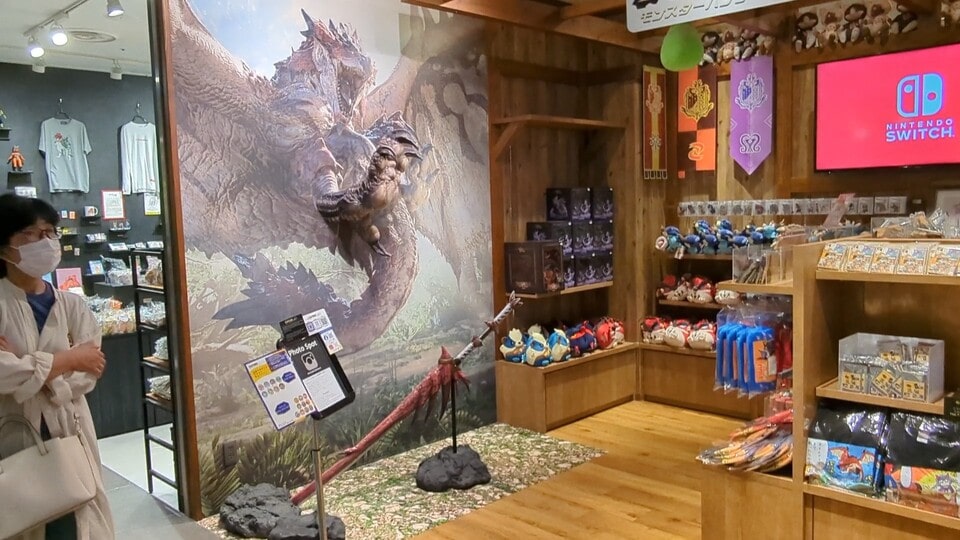 11) YoYogi Park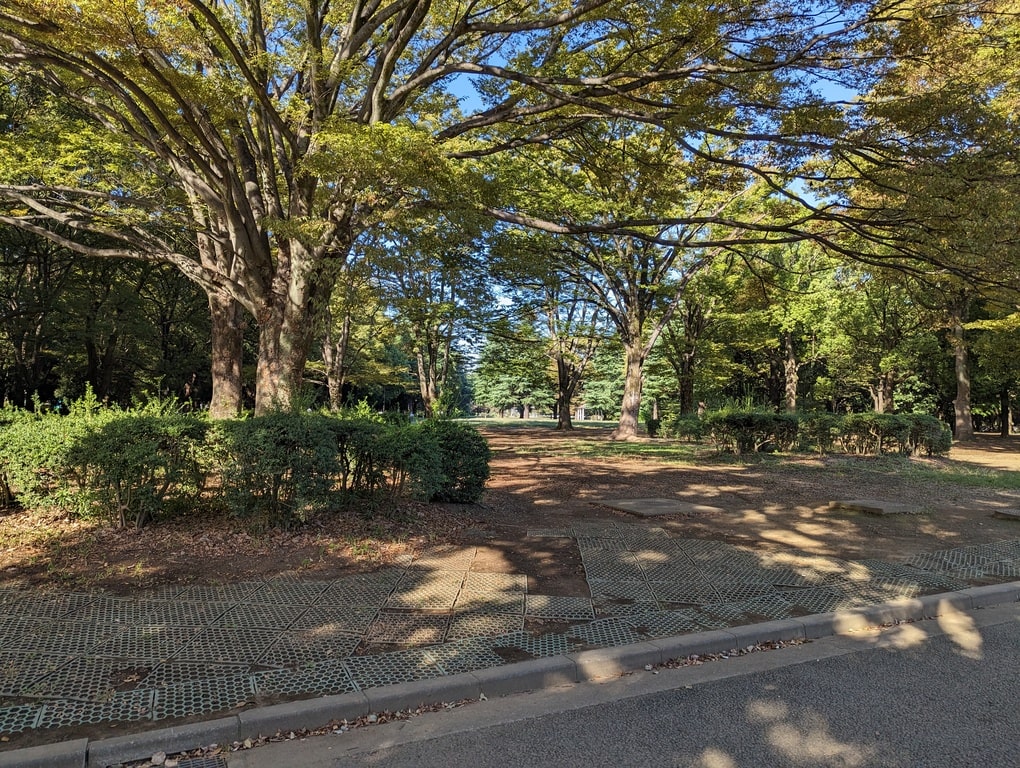 This park was massive, we knew a lot of places weren't open until 11am, so we headed here first thing in the morning and I'm very much glad we did.
You also got to see a different side to this fast-paced city, where people were strolling calmly to work or heading out for a jog.
They have a public toilet available (for free) which was a relief. There were also areas where you can see some wildlife, but they were shut when we arrived.
12) Eat A Crepe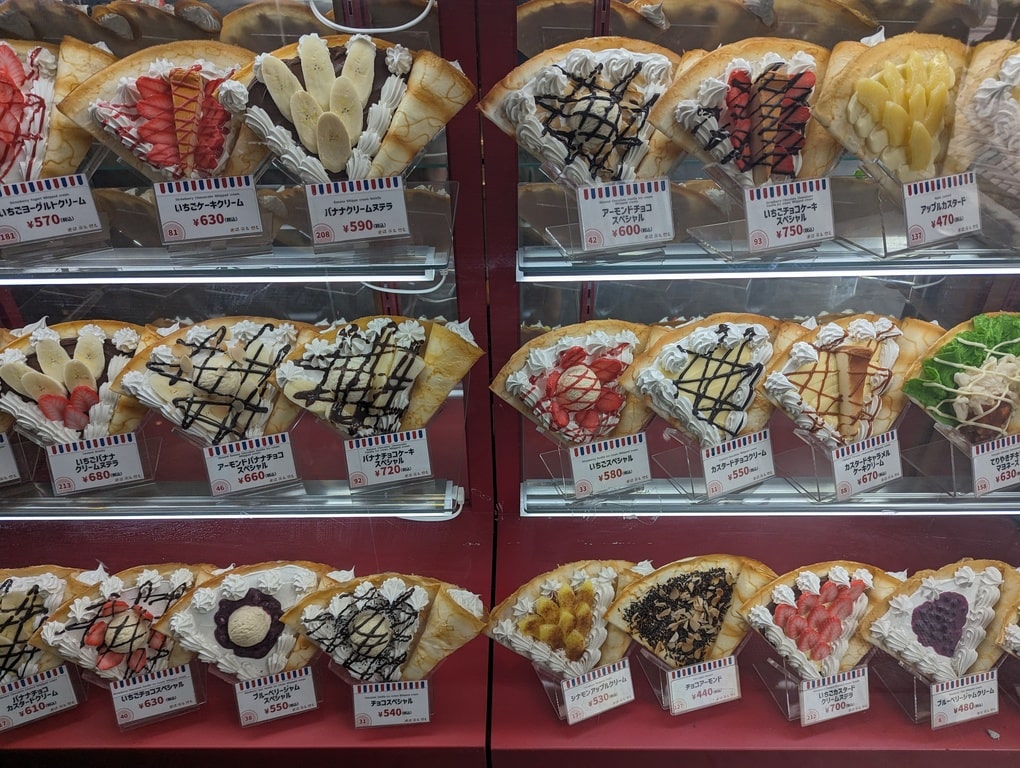 I loved the way these appear in the windows, appearing so real, it really is a skill! There were a good few crepe cafes dotted across the city and probably none more so than in Shibuya.
If you fancy a sweet treat, then this is a great option, plus you will be spoilt for choice, meaning you can find the one you'd enjoy the most.
The price also isn't too steep, you pay what you'd expect to pay, but I'm glad they haven't hiked up the prices considering how popular these are.
A lot of them are filled with cream, so you may be in trouble if you suffer from IBS, as I don't think they offered any options without cream.
13) Win A Prize On The Claw Machines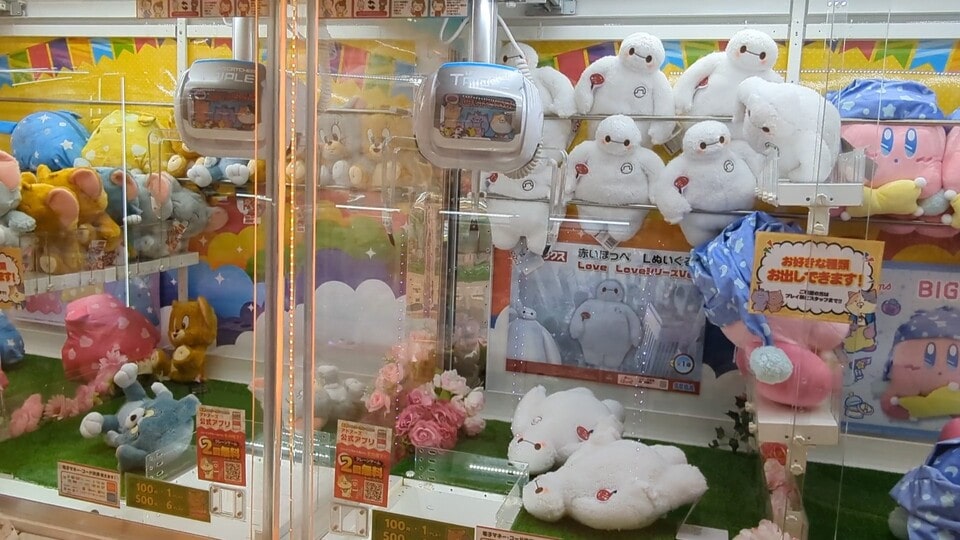 I'm yet to win a game from any claw machine, not that I'm ever overly fussed about the prize, but sometimes they can be fun when on holiday.
Plus, the idea of winning a big soft toy for our dog Ruby to chew on sounds pretty good to me! These claw machine arcades were found in a few separate areas, such as Adores and Taito Station.
You will also find a few other games here, such as Street Fighter, which is good fun and a good time waster if you're waiting to do another activity in the area.