We have been scrimping and saving for the past 12 months as we hoped to buy a house together this year, however with the property market going mad, the year has slipped away and we find ourselves in December.
But with Christmas around the corner, we wanted to put the house-hunting behind us and get in a festive mood and plan lots of exciting activities.
If you live in Sussex, then I can highly recommend the activities below as a great way to feel in the mood for Christmas, whether you're going with your partner, with friends or the whole family.
Cleveland Arms Christmas Menu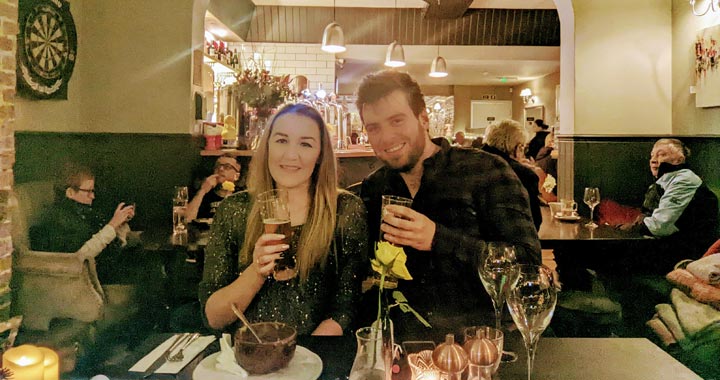 There is something so comforting and picturesque about having a great tasting roast dinner while sat in a warm pub by the fire.
The Cleveland Arms is an award-winning traditional pub found alongside Blakers park and a short ten minute walk from Preston Park.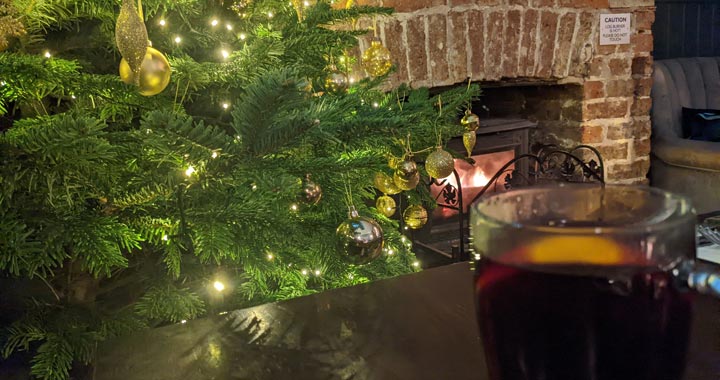 The Christmas tree is up in the corner of the room, the fire is crackling and everyone inside is smiling as we approach our seats, ready for the feast ahead.
For starters, you have the choice of the curried parsnip & apple soup, rebels Saki smoked salmon or the black pudding & pear. I went for smoked salmon, as I'm slowly becoming addicted to it, while it came with caper mayonnaise, pickled apple, fennel and yuzu dressing.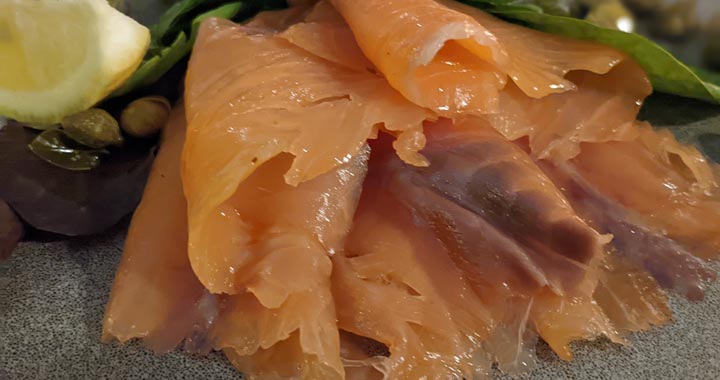 Raquel went for the soup, which came with sourdough bread and whipped goats butter, while I couldn't help but pinch a little out of her bowl.
For mains, the first option was a free range Castlemead turkey, with breast and leg stuffing, roast potatoes, vegetables, game gravy and a Yorkshire pudding.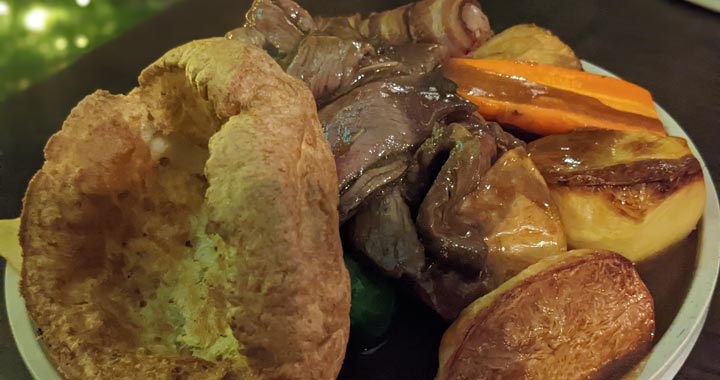 If you're a vegetarian then you can pick the wild mushroom and chestnut wellington, with Sussex brie melt, roast potatoes, vegetables and veg gravy.
But both me and Raquel are beef addicts, therefore we instantly opted for the roast rib of dry aged beef, accompanied by ox cheek croquette, roast potatoes, vegetables, beef gravy and a Yorkshire pudding.
For desserts, Raquel had a gorgeous chocolate brownie, while I went for the gingerbread pear trifle, while they also offered a traditional Christmas pudding.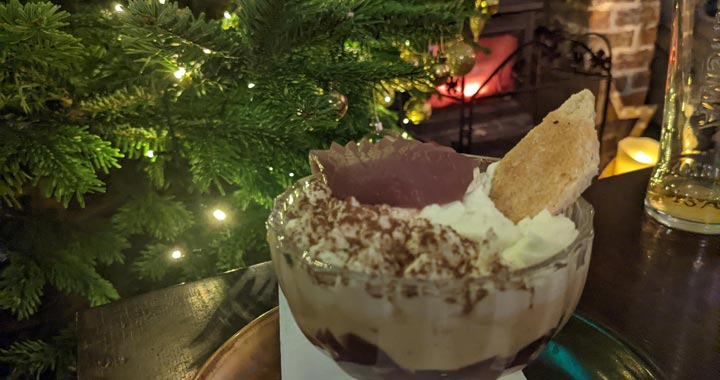 Altogether, it will cost you £26 for 2 courses, or £32 for 3 courses, well worth the price! You can book the Christmas menu up until the 26th December, Monday to Saturday.
They also serve a luscious mulled wine, which made you feel warm from head to toe, while it also got us in a jolly mood! Make sure to book a table in advance.
Brighton Cookery School Festive Bakes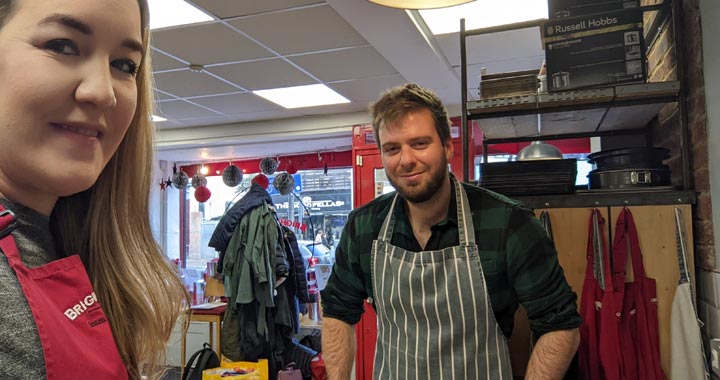 Every year when I visit my mum in Bath for Christmas, we head to the local bakery to have homemade mince pies, the taste compared to the general shop-bought options are incredible. So the chance to learn how to make them from scratch was beyond tempting!
Brighton Cookery School, located on London road, runs a festive bake session where they teach you how to make a French Buche de Noel, as well as mince pies.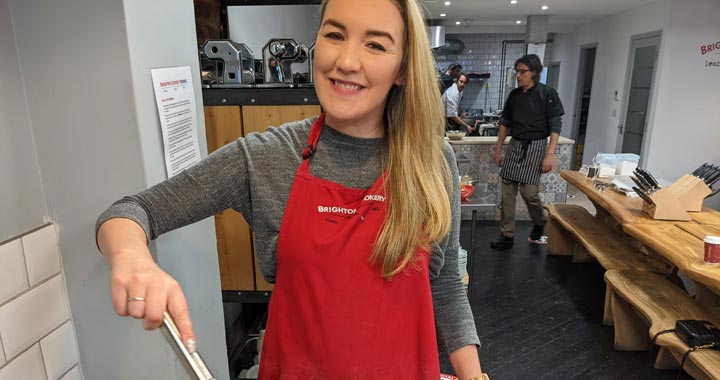 You also get a prosecco welcome drink which went down a treat. The class lasts around 3 hours, while if festive treats aren't your thing, then they have plenty of other classes, such as sushi, macarons, Thai or bao buns.
The gorgeous smell of mince pies in our kitchen now is incredible, we had one hell of a serious sugar rush after tucking into it all once we got home.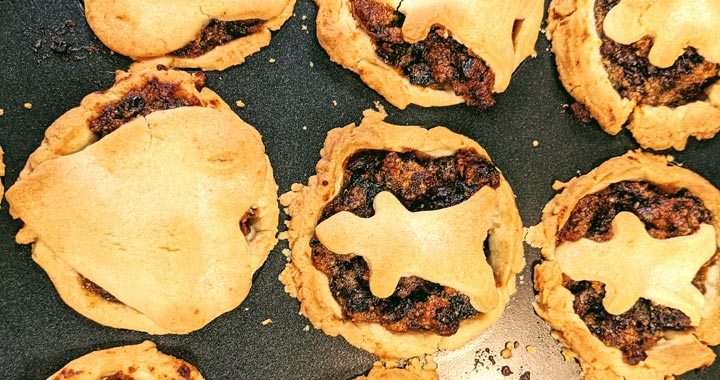 This was the first time I've baked since I was at secondary school, so I certainly need a bit more practice, but I was surprised how much I laughed and smiled throughout.
The chef was trained at a Micheline star restaurant in France, while he was absolutely hilarious, sharing humorous anecdotes throughout. The chef also mentioned they can send you the recipe afterwards, so you can try again afterwards at home.
Browns Festive Afternoon Tea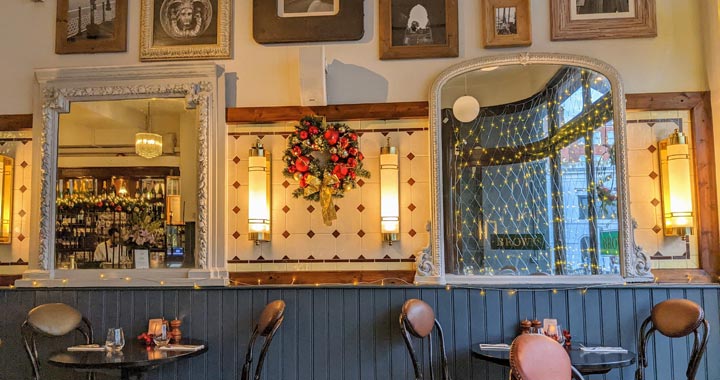 Located in the heart of Brighton on Duke street, Browns is somewhere I used to visit when my dad would come down to Brighton and I was a student, loving their incredibly tasty Sunday roast.
They have a festive themed afternoon tea that is certainly worth trying, priced at £19, however if you choose to add a glass of Moet et Chandon Imperial Champagne then it's £30 per person, or with a glass of Prosecco it's £25pp.
The savouries included four sandwiches, being prawn and baby gem lettuce, turkey and cranberry, cucumber and cream cheese and heritage hen egg mayo brioche roll, alongside a smoked salmon and cream cheese on whisky & thyme oat cake.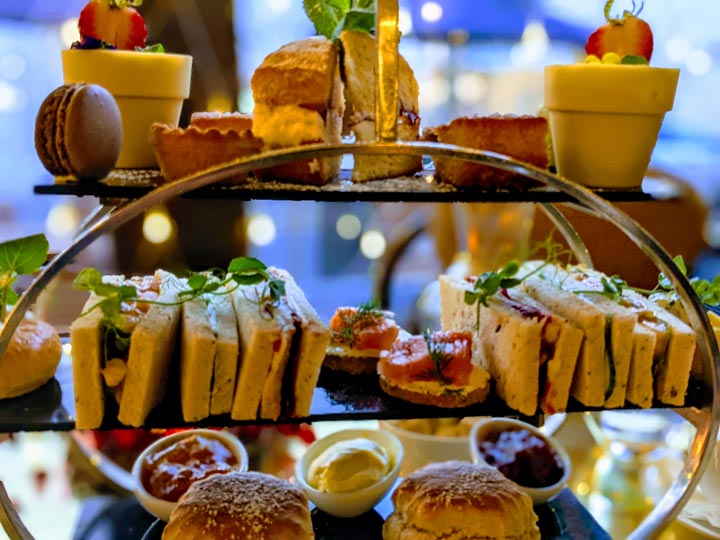 Of course, an afternoon tea isn't complete without scones, clotted cream and jam, with two jams to pick form, being strawberry and apricot.
There were fives cakes, with the chocolate mousse flowerpot being the most eye-catching (yep, that flower pot is edible).
I live for macarons, so I was beyond happy to spot those on the menu, while you also got mini mince pies, Victoria sponge and lemon drizzle cake.
The Grand Festive Afternoon Tea
Overlooking the West Pier, the Grand is a great option for someone who wants those seaside views to look out on.
Located on the Victoria Terrace at the front, the chairs were cosy, the room was nice and toasty while the cutlery and plates were spectacular.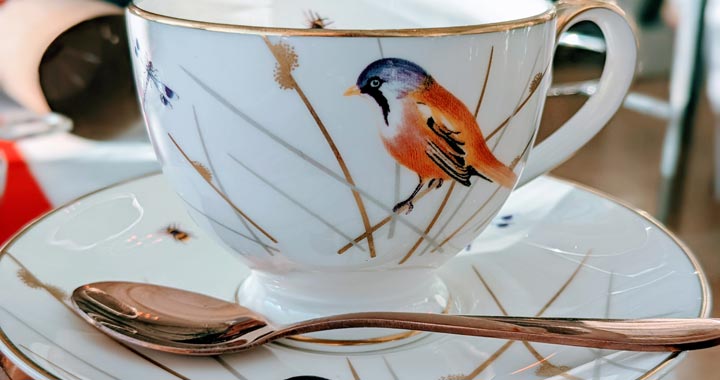 I loved the little touches they add, like having crackers on the table so you feel like it's Christmas day with the family.
The Festive afternoon tea included three sandwiches, being smoked salmon, cucumber & cream cheese and ham & grain mustard mayonnaise.
I loved that they had a warm savouries plate as well, with a freshly baked pork & cranberry sausage roll in buttery flaky pastry with sea salt, sussex blue cheese & pear quiche, as well as a panko crumbed smoked haddock kedgeree.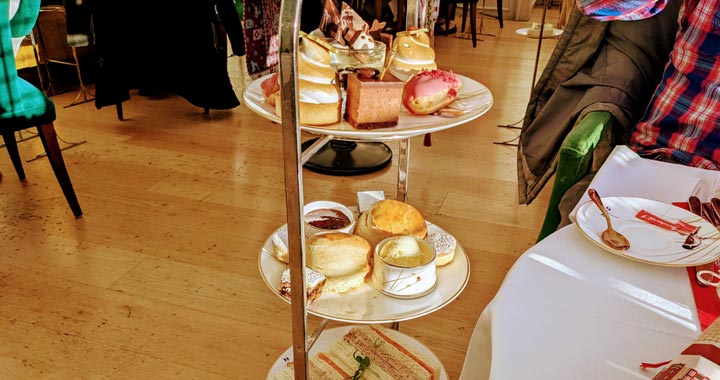 There was a selection of pastries, included mini mince pies, ruby chocolate & raspberry éclair, lemon meringue tart, chocolate & coffee delice and an elderflower jelly & blackberry cream, plus an iced fruit cake.
Of course, the main item in an afternoon tea, they provided freshly baked Shipton Mill scones with clotted cream and strawberry preserve.
The selection of teas was beyond expansive; however we couldn't help ourselves and went for a latte and cappuccino.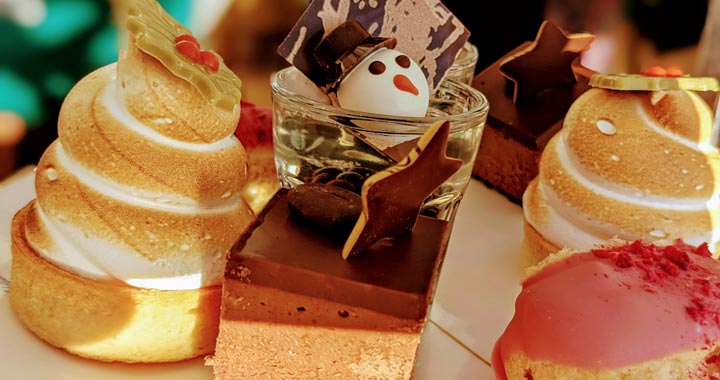 If you want to save some money, you can enjoy the festive afternoon tea for £27 from Monday to Thursday, otherwise it's £32 from Friday to Sunday.
Royal Pavilion Ice Rink
I'm not a huge fan of ice skating, as I have a tendency to spend most of the time on my bum, but it's the setting at the Royal Pavilion that makes this so magical.
With the palace lit up with the purple lighting, it feels like something from a movie. If you're like me and don't want to spend too much time on the ice, then there is a great bar at the side where you can sit down and have a drink, while watching people circle the ice.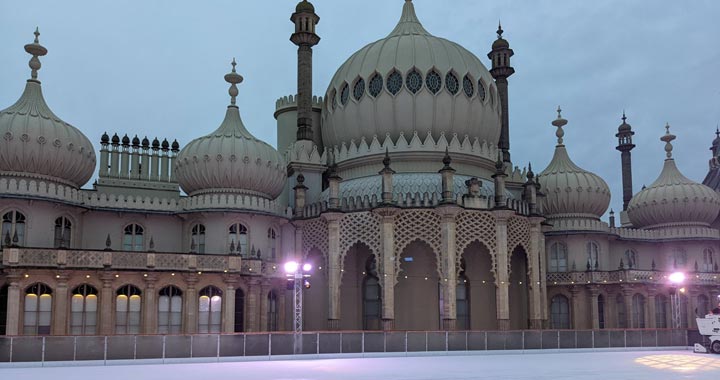 The 800 square metre rink opens on the 30th October and stays up until the 9th January, while it is certainly a bit more busy on the weekend, so I would visit midweek if possible.
It also stays open till surprisingly late, so you can skate all the way up until 10pm, but remember, sessions must be booked in advance, with a session lasting 45 minutes.
Brighton Christmas Festival
The Brighton Christmas festival opened up this year for the first time, stretching from the Old Steine all the way up to St Peter's Church.
The top end near St Peter's Church is where the shows take place, while a bit further along you have the Apres Ski lodge bar. Unfortunately, the ski lodge bar was full to the brim, so we decided to skip this.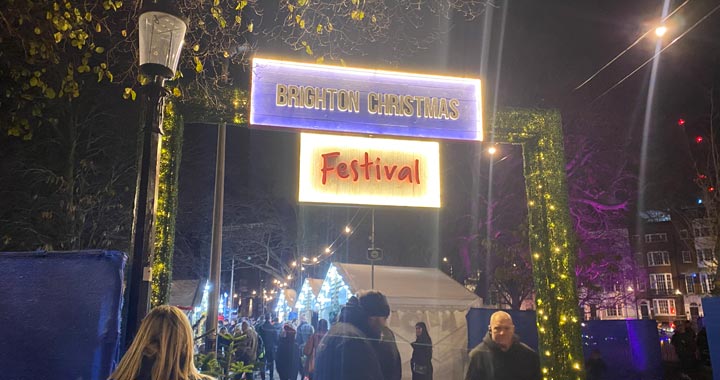 Further along towards the seafront you'll find the Christmas market section, with a number of stalls selling food, drink and various items such as Christmas jumpers and potential gift ideas.
Once you reach the Old Steine, you'll find the funfair, with numerous rides such as the Waltzer, with a huge 50 metre observation wheel.