Austin; Their slogan 'keep Austin weird' pretty much said it all! Austin was definitely the opposite to the rest of Texas. Imagine Brighton and San Francisco had a love child, was born in the sixties with flowers in its hair. Austin was truly the most hippy area I have ever been to before, a really forward thinking and accepting community.
Polaris summed up this city, someone we met while on a night out in a dubstep club. OK, lets take a step backwards. We arrived in Austin after Houston, an area which really let us down, with absolutely nothing to do, and the person we were meant to meet completely abandoning us. Once we arrived at the Greyhound station in Austin, we got in contact with someone from Couchsurfing who offered us somewhere to stay for one night. We were more than happy to take up the offer, dropped off our stuff and went off to explore Austin.
When you visit Austin, you are told about the overwhelmingly beautiful springs that you can swim and relax in. Being a keen swimmer myself, we made the trip to Barton Springs, the man-made outside swimming pool. What we found however was something quite the opposite to what we had imagined. There was a diving board with a queue of around 100 people doing flips into the water and generally showing off as much as possible, while the water was green and smelt like a baby's nappy. Standing anywhere in the water, we found ourselves battling for room with an angry 6 year old and a deranged grandma. After around one hour, we decided to cut our losses and head out for a night on the town. Austin was renowned for its clubbing scene, and being the weekend, we were expecting a legendary night of great music and even better people. We found ourselves disappointed again for the second time that day as we found overly strict bouncers, dingy bars and clubs you would more expect to see in Norwich. One thing that came from this night is we made friends with someone who offered us somewhere to stay, one of the most welcoming and sociable people we had ever met, Polaris!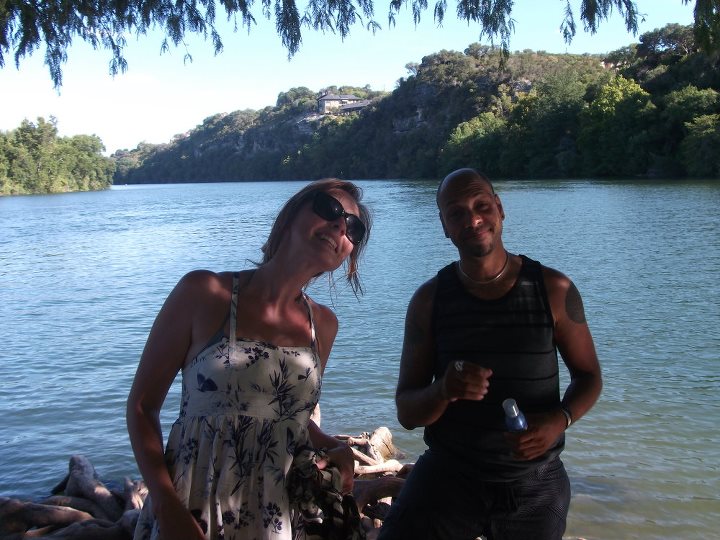 First thing in the morning, Polaris drove us out to Red Bud Isle, one of the highlights of our trip to America. The park was completely empty of anyone, except for dog walkers and the occasional kayaker, a far shot from Barton Springs! A lake ran through the middle of the park, filled with fish and turtles (I found myself regularly bumping into turtles, a really phenomenal feeling). After swimming around for about two hours, we swam across the lake to a point which we could jump in from. I just want to point out that 20 foot is a very big jump once you're up there!
My heart jumped out of my skin, but I finally built up the courage to jump, something that will stay fresh in my mind for years to come. Now, I don't want this to put you off, but supposedly there are water moccasins in the lake. We did not witness any, and neither had anyone locally in a good while, however the locals let you know (probably just to keep too many people from visiting) however it definitely kept me alert! Considering my tendency to be attacked by every living creature, we were expecting at the very least a few poisonous bites on my toe, however we were all happy to finish the day alive.
Following a very relaxing day, we had a lunch at a cocktail bar which provides a free nacho buffet (providing you're constantly drinking, no challenge there). We then saw the real side of Austin as we attended an open mic night. What stood out to me is that everyone knew each other and really supported each other. These weren't overly talented people, nor were they the kind of people you expect to see on stage, which is why it was so impressive, as you realised whether they had talent or not, the people around them made them feel confident enough to take the risk and perform with a smile on their face. One of the highlights was watching a death man playing the guitar and singing to the sounds he felt inside of him, while everyone signalled to him that they were applauding by waving both hands above their heads. While the open mic nights were certainly not something I would do back home, it really pulled on some heart strings as I was touched by everyone in there. To point out one bar that did this would be pointless as these seemed to be everywhere in the centre of Austin.
Following the open mic night we went onto a club playing my favourite type of music, Dubstep and Drum n Bass, all smiles for me! This is not everyone's type of music, certainly not my friends, however they all got really into it (that might have been motivated by the vodka cokes). Whether it was the music, the vast amount of alcohol in our blood stream, the friendly atmosphere or the cheeky bar maids, we loved this club (I think it was called Barcelona).
As we woke from our slumber and began planning the next day, we managed to see a phenomenon which occurs every day in Austin, something we certainly weren't expecting. One of the bridges in Austin is home to around a million bats, which once a day make a breath-taking journey off into the sky which everyone watches from the side path on the bridge (occurring about 7pm, so get there at 6:30 to be safe and to ensure you get a good view). I have the video, which I hope you enjoy, however I only recorded about 2 minutes, a small segment of the event that lasted about 15 minutes long. This is one of those things where I wouldn't go to Austin just to see, however if you're in Austin already then it can really add a gloss to your evening!
Austin was really one of those areas where you have to know a local, or make friends with one, as we almost left after 2 days, yet ended up staying for an entire week after meeting Polaris.
It does sadden me to read that Austin isn't quite as hippy as when I was there 7 years ago, however it has been affected by the policies and mindset pushed by Trump, increasing xenophobic attitudes in the area and with an increased level of gang violence not helping either.
I still openly highlight it as a must-see for anyone travelling across the USA, battling with Fort Worth as the best place in Texas. The attitude and togetherness of the locals will leave you feeling all warm inside. Just make sure not to drink on the street. Being Brits, we cracked open a beer without thinking twice when walking through a park, but we were warned by a number of locals about how strict the police were on drinking on the streets, so we learned our lesson and quickly drank it all in one go.