Soon as we begin approaching August, we all drag our wellies out from the wardrobe and get ready for an incredibly messy few days in a field somewhere in England.
Personally, my favourite festival is Beach Break, however this is based on my love for Drum n Bass and Dubstep, so it appeals to a very select audience.
There are however a number of bizarre and fascinating festivals that occur every year around the world, and I aim to tick off each one! I hope you can come join me on my adventures, and I hope you enjoy my list of the ultimate festivals world wide.
1) La Tomatina
La Tomatina is a tomato throwing festival in Bunol, now what else needs to be said! Any food fight festivals are going to have my name on it with a big smile on my face, however this one stands head and shoulders over the others.
The history of this festival is clouded by theories and rumours, however the most well known theory was that a fight broke out in 1945 between two people, who resorted to using vegetables as weapons.
One important thing to remember is to burst the tomato before you throw it, so it doesn't hurt the person on the receiving end. This event inevitably finds itself on my list of the best things to do in Spain.
2) Night of the Radish
My eagerness to attend this festival isn't as high as the others on this list, partly due to its creepy nature. The Night of the Radish festival is held in Mexico every year on 23rd December, making it a good option if you want to go somewhere for your Christmas holidays. Starting in 1897, this festival has been appreciated by multiple generations.
Like it says on the tin, the Night of the Radish festival is an exhibition of radishes made into sculptures. While some of the sculptures can appear creepy and disturbing at times, a large amount of the sculptures could leave you breath taken.
3) Wife Carrying World Championship
Being single, I am definitely lacking a vital component to attending this festival, however there is no way they can keep me away from attending the moment I walk down the aisle!
The wife carrying world championship is based in Finland, with an unbelievably good prize, being the wife's weight in beer!
The major choice you have to take is how to hold, or be held, as you can choose from piggyback, fireman's carry or Estonian style.
This will not be an easy ride however, as the same couple have won every year since 2009, setting themselves a legendary status in the world of piggybacks (something I aspire to reach)!
4) Bath tub race
A bath tub is converted into a speed boat and they are raced from Nanaimo to Vancouver, now I don't have much experience in sailing boats, but this has to be up there in everyone's list of things to do!
Well, this is one way to get your kids to wash!
5) Boryeong Mud Festival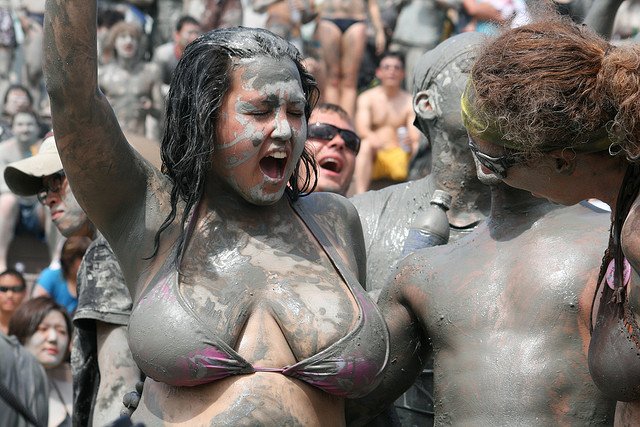 The Boryeong mud festival, held in South Korea, might seem pointless to the Reading festival goers, who can do that in their home country, however this festival looks absolutely unmissable if you don't mind getting a bit messy.
This festival has something for everyone, with beautiful mountains for the outside type to climb, sandy beaches for beach lovers and a party atmosphere unlike anywhere else in this Country. This would make it onto my list as 'make a human pyramid at Boryeong Mud Festival'.
This also made it onto my list of the best things to do in South Korea.
6) Monkey Buffet Festival
When people think of Thai festivals and parties, the mind instantly floats to full moon or half moon parties. The Monkey Buffet Festival is much less well know, however if you plan on visiting the country, you should definitely make the most of one of the most bizarre sites you will ever see!
Taking place in November, the Monkey Buffet Festival entails a number of monkeys being rewarded with a feast to say thank you for bringing in such high levels of tourism. The amount of monkeys in Pra Prang Sam Yot are believed to be just over 2,000 strong, with the Macaque monkeys gaining a huge amount of interest.
As an animal lover, I think this had to make it onto the list, as watching 100's of monkeys dig into their feast would be absolutely phenomenal. This is just one of many things to do in Thailand.
7) Cheese Rolling Festival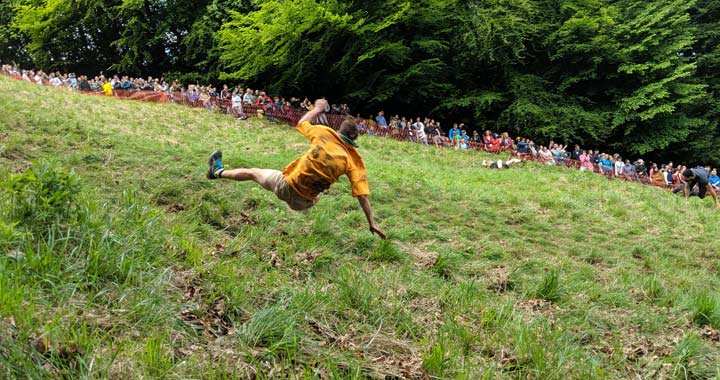 The cheese rolling festival is a lot closer to home and was an unbelievable experience to witness up close and personal.
Occurring on a hill in Gloucester, the main basis of the event is that a massive ball of cheese is rolled down the incredibly steep hill and a bunch of lunatics chase after it, inevitably tumbling most of the way down.
The person who reaches the bottom first wins the ball of cheese, however there are some experts who do win it most years. In fact, watch the festival documentary on Netflix about the people who always win it and you'll see us in the background!
To slow you down at the bottom of the hill, the local rugby team happily volunteered to rugby tackle anyone who is coming down too fast, as they reach the end of the hill.
If you don't fancy losing some limbs, you can always stand/sit on the hill and watch other fly down it, as the audience is growing with every year passing by.
It is slightly difficult to sit, with the hill so steep, but will be worth it. Make sure to get there early so you have a view right from the front. You should also avoid drinking alcohol, as there are no toilets and you don't want to lose your spot.
8) Orange Festival
Taking place every year in Piemonte, Italy, around 10,000 people begin an epic orange throwing battle.
As random as this sounds, there is reasoning, as it is based on the rebellion against an evil leader they had, who would rape virgin brides just before they got married.
He was beheaded at the time and his guards were stoned to death, however in modern times people prefer to throw oranges and drink a bit, therefore this has now become quite an amusing festival, not a bad one if you enjoy a free orange!
Also, do you check out my list of things to do in Italy.
9) Carnival, Brazil
A lot calmer than any others on the list so far, the Rio De Janiero Carnival is a four day long festival, occurring every year in early February.
I'd recommend learning a bit of samba before you visit, as on arrival you will want to dance the night away as you follow the parade through the streets.
10) Komaki, Japan
On the first Sunday of April, a celebration of fertility occurs in Komaki, where literally everything is shaped like a penis.
A large amount of women will also dance around the penis effigy as it is believed to keep you safe from STI's. There isn't much I can say about this other than head out there and have a laugh!
If you do head for Komaki, do make sure to have a read of my list of things to do in Japan.
I hope you enjoyed my list of the greatest festivals to go to around the world. If you would like to nominate one you feel I may have missed, write a comment below or send me an email.