I've stayed in a hefty number of hotels in London, considering it's where most of my family and friends live, however I've always had a passion for staying in slightly unusual hotels. It makes for a completely different experience, from bizarrely themed resorts to creative on-site restaurants or beautiful gardens. I've listed all of my favourite and most bizarre hotels in London. Also, don't forget to have a read of my list of the best desserts to eat in London.
1) The Exhibitionist Hotel, South Kensington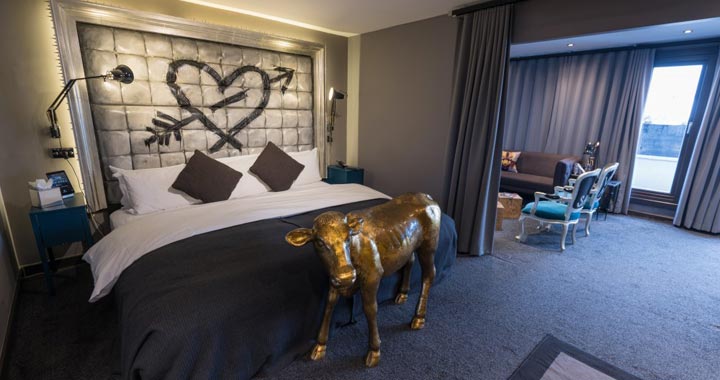 This is an incredibly chic hotel, stylish in every manner, while it's also one of the cities best kept secrets. With just 37 rooms, it can be booked up pretty quickly, so you may want to book a room way in advance of visiting. If you don't manage to get a room, you can visit the cocktail bar or restaurant.
2) Gir Lion Lodge, London Zoo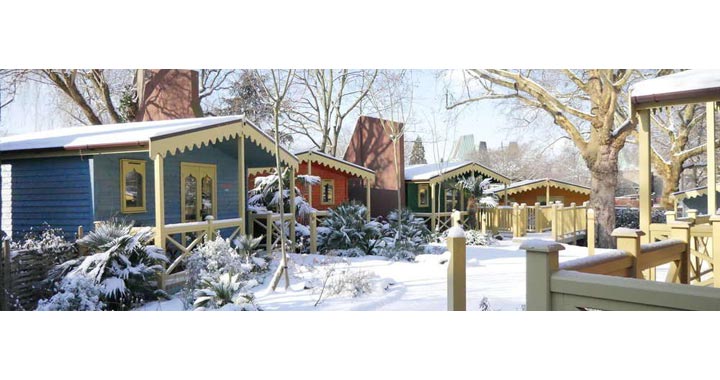 Largely taken by people on their honeymoon or anniversary, the Gir Lion Lodge offers you a unique opportunity to stay over at a zoo. This can often be booked with a night viewing of the animals. As you can imagine, they're normally sleeping during the day, but many are active at night, so you will see them more vibrant and in a way you're maybe not used to. You also get a two course buffet dinner included.
3) Sunborn London Yacht Hotel, Royal Docks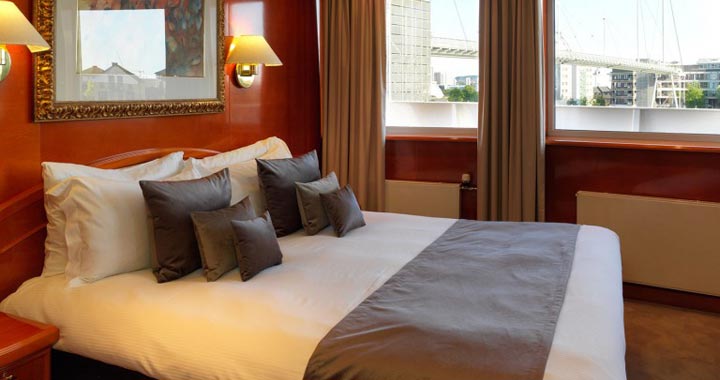 As you can guess from the name, this hotel is housed on a giant super yacht. It's also located right next to the ExCel building in London, making it an unusual hotel to stay in if you're visiting for an exhibition. The yacht hotel can make for a romantic stay, or alternatively, a great place to celebrate your office Christmas party.
4) Ibis Styles, Gloucester Road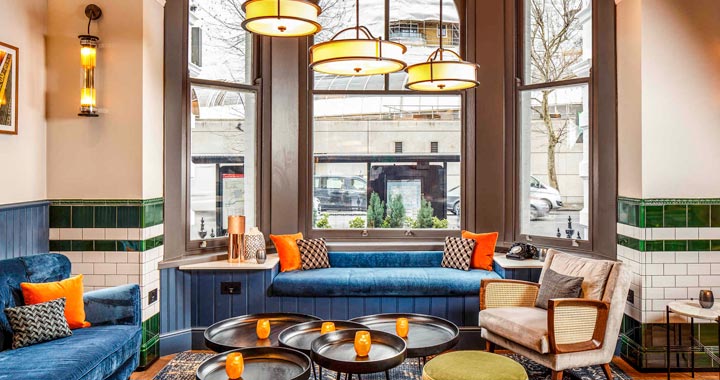 The hotel opened back up in 2019 after a hefty amount of refurbishment, but it has a very different appearance to what people previously expected. The rooms are now themed to look like the tube, except a lot more cleaner and prettier. You will find themed pillows, carpet and bedding!
5) Hazlitt's, Soho
Right in the heart of the West End where you can enjoy a show during the evening, you can rest your head at this traditional hotel that has stood for hundreds of years. Their suites are simply stunning, looking like a royal palace rather than a hotel room. While staying here, you might want to read my guide on the best markets in London.
6) The Harpy Houseboat, Mill Street
I've already mentioned a super yacht, well this one doesn't quite stand up for its size but this floating home will offer you a much more affordable way to stay on the Thames. In fact, it's known as London's oldest houseboat and offers brilliant views of Tower Bridge.
7) Georgian House Hotel, Pimlico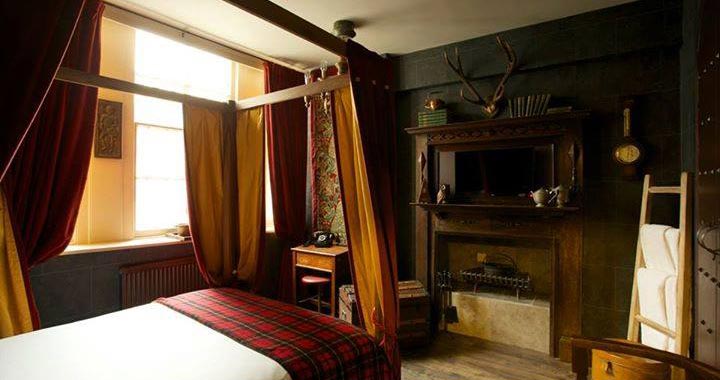 This hotel is unique as it embraces various wizardry experiences! You can feast on a magical afternoon tea experience (vegan option available), or you can try making alcohol potions in their cocktail making masterclass. They even have wizardry themed hotel rooms so you can embrace your inner Harry Potter.
8) National History Museum, South Kensington
Labelled Dino Snores for Grown Ups, you can stay in the National History Museum and enjoy music, movies, food and fun in this bizarre experience. The prices are quite high, but it's a unique London experience which you can be sure no-one you know has had. Let your inner child free to run around the museum and do what you want! You will also gain access to temporary exhibitions.
9) QBIC Hotel, Whitechapel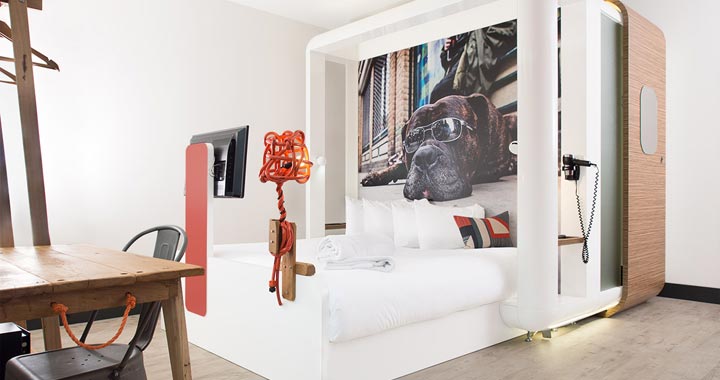 Originally started in Amsterdam, they now have one in London and the rooms book up very quickly! This isn't a top end stay, it's 3.5 stars and is reasonably priced, however the rooms have crazy themes and is perfectly located in the city.
10) St Pancras Chambers, Kings Cross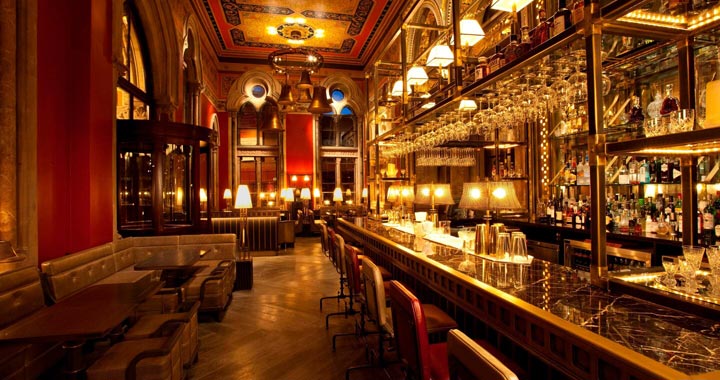 Oh you heard me right! You can stay at the St Pancras Renaissance Hotel, a truly romantic hotel which has won numerous awards. You will literally be staying below the clock in St Pancras Station. The clock tower itself offers views of St Paul's Cathedral. If you do stay here, then you should have a read of my article on the best things to do in Kings Cross.
11) Great Scotland Yard Hotel, Westminster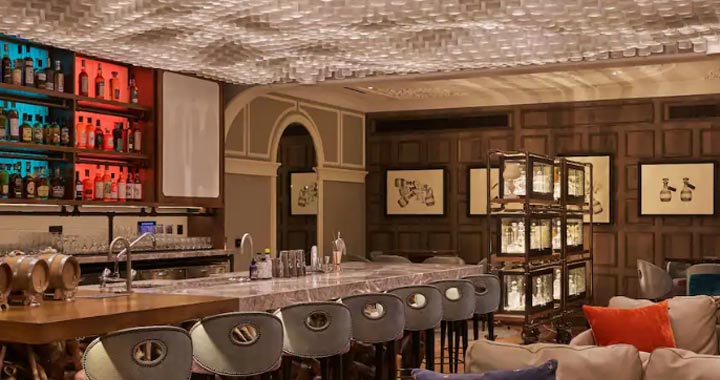 Being located in Westminster, this is about as central as you can get. This five star luxurious hotel is police themed through and through, with a wall highlighting various famous police officers, criminals and judges. You will even find famous evidence in boxes. The rooms have all been designed with the Met Crest on the doors. Even the staff wear a particular costume that suits the theme.
12) W London, Wardour Street
This 192 roomed hotel in Leicester Square is part of the Marriot hotel range, but looks very different to any others they offer. The decorations are bizarre but bright and vibrant, even the reception looks unique! But who can say no to floor – to – wall windows?
13) Hard Rock Hotel, Marylebone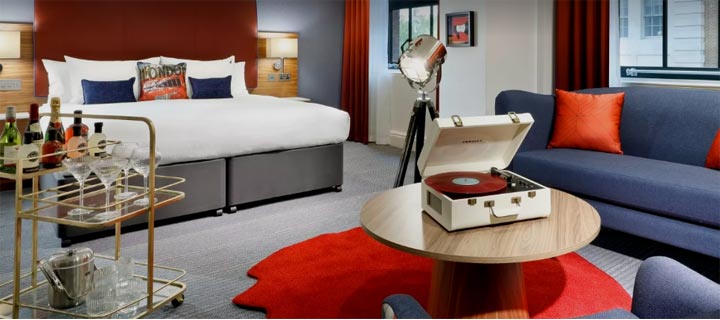 I've been to a number of Hard Rock hotels around the world, such as San Francisco, where I spent the best part of an hour just admiring all of the memorabilia. It's central location makes this a popular option for those looking for something a little glam, yet equally quirky. The beds are comfy and you're right next to Oxford Street, meaning plenty of shopping!
14) Good Hotel London, Royal Docks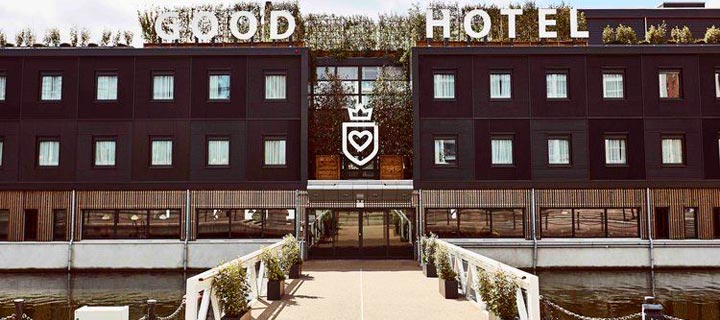 This floating boat hotel would be unique enough if we just said it floated on the River Thames, but the rooftop restaurant make it one of the most popular attractions when it comes to unique London hotels. There are four different room types available, standard, water view room, deluxe water view room and the water view corner room. If you can afford it, the final option is definitely worth considering.
15) St Christopher's Inn Village, London Bridge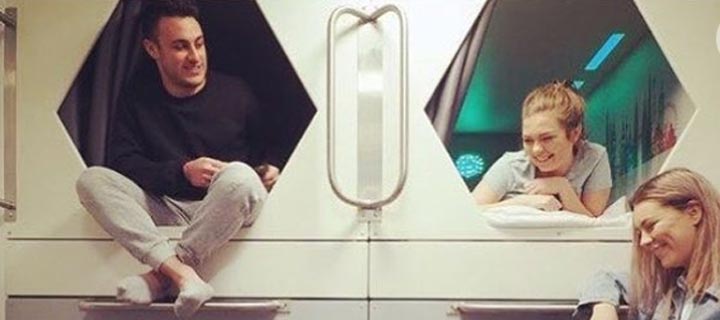 This hostel is often also known as the London Bridge Hostel, considering its location. Yes, it is a hostel, meaning cheap prices, minimal space and lots of banter to be had as you make friends, but the reason this place stands out is the capsule beds, more often seen in Japan. It's the first of its kind in the UK, not that I see this catching on any time quick, but it is fun as a one-time experience.
16) Rubens at the Palace, Westminster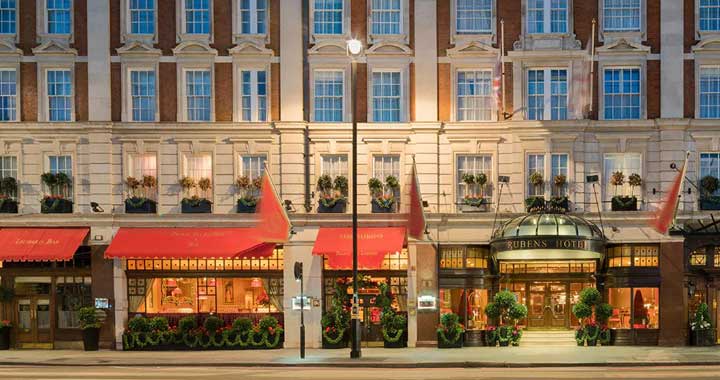 Another incredibly central located hotel, this one is completely themed around the royal family, so don't hesitate to dress up! You will even find a picture of Prince Charles on the wall, along with various other royal family members in paintings coating the walls. The crystal chandeliers add a touch of class, while the canopies over the beds will make you feel like you're in something from a childhood movie.
17) Shangri-La Hotel, The Shard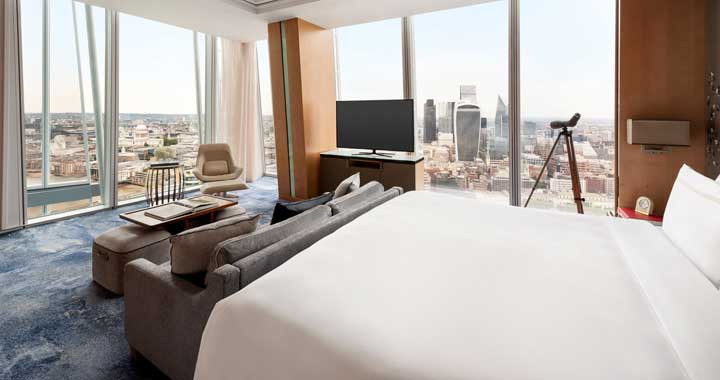 Yes, you can now stay in the Shard! This huge building in London is a mesmerising sight from anywhere in London, while the views you will have looking out each morning will take your breath away. The price of a stay is high, but what else would you expect when staying in the Shard? There is even an infinity pool! Speaking of which, you should definitely have a read of my article on the best views of London.
18) Courthouse Hotel, Shoreditch
As you can guess from the name, this hotel is themed to be like a court room. This is because the building is a former magistrates court which has been converted with modern features. There is also a great bar you should have a drink or 2 in.