Colombo was very much a stop off point, we didn't see our first truly beautiful impression of Sri Lanka until we went down south, to Ahangama. Read on for my review of the incredibly luxurious Mosvold Villa where we stayed in September 2018.


Arrival
As soon as we arrived and our bags are taken, they offered me a candle to light a traditional mark. This was a really nice touch, however being a bit of a windy day I looked a little silly as I kept trying, but they smiled throughout as I succeeded on my fourth attempt.
A pool of large exotic fish is also based right at the entry, therefore you find yourself glaring at all the unusual aquatic activity.
They sat us down and gave us a smoothie while we began looking through the menu for a spot of lunch. Perfectly located, the eating area is at the back of the hotel, where you have views of the hotel beach, as well as the waves crashing against the rocks.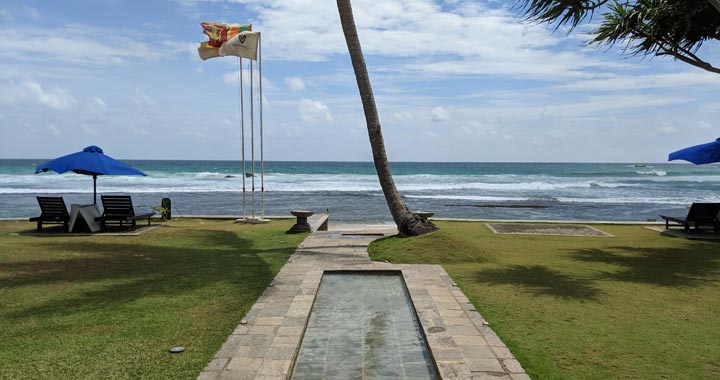 The Room
One of the first places I always start with is the bed, as it's the cornerstone of the room. Well, this is one to shout about! It's a four-poster bed, something I've always wanted to sleep in.
The ceilings stretch far above, way beyond reach. I can already hear my dad in my mind pointing out the extravagantly large ceilings, he does love them!
There's a large TV with around 130 channels, including plenty of English speaking options (we had ours playing Friends on Comedy Central in the background). Alongside the TV is our coffee section, where the tea's are packaged in beautiful boxes and they offer nice mugs rather than your traditional ones you get in hotels.
For anyone that appreciates a big mirror, this is another box ticked as it's about 5 foot tall, while on the other side you have two comfy seats.
The rooms all have their own porch seating area, where you can walk straight out towards the beachfront or swimming pool, while the seats also make for a good spot for an evening beer.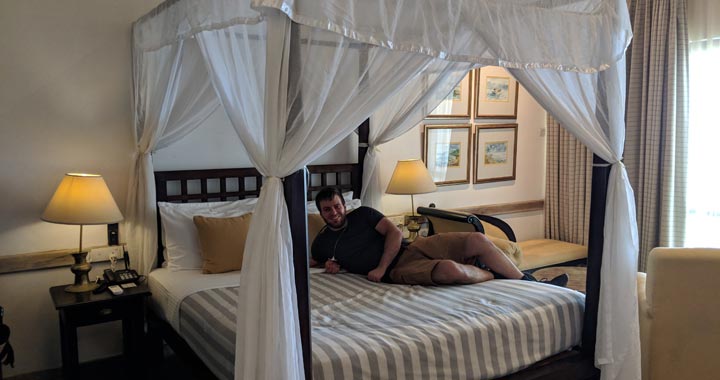 The Bathroom
One frustration about Sri Lanka is that, as the general height of Sri Lankans is a bit shorter, most of the showers only go around 5"7 high, meaning I have to duck down quite a bit. In the Mosvold Villa the shower was around 9 foot tall so even the greatest giant can shower in comfort.
There is also a stand alone bath tub, the kind we always dreamed of having in our house. Not one to miss an opportunity, we were straight in here, filling it to the top with warm water and bubbles.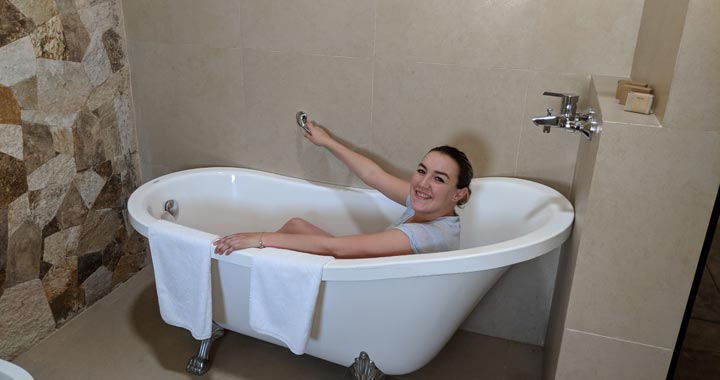 The Fishermen
One of the most famous images of Sri Lanka is the stilt fishing, however while it may look like a deeply traditional act, it was only started soon after World War II. Right on the Mosvold Villa beach line are the poles setup with multiple fishermen taking their place each day until around 5pm, when they bring in their catches for the day.
Being able to see this sight without even leaving the resort is incredibly nice and makes you feel like you've achieved something, even if you spent most of the day by the pool…Not that we did that!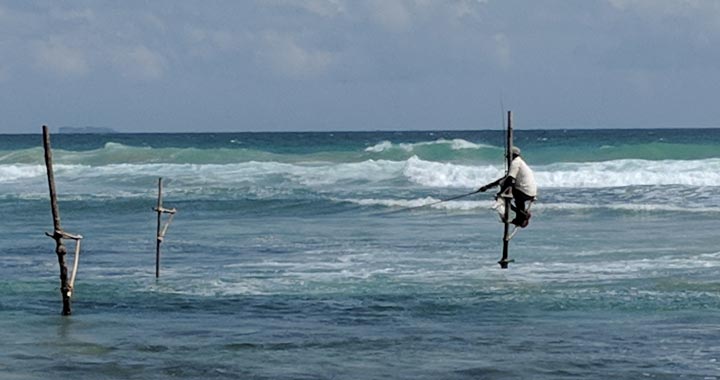 The Beach
Apart from the fishermen highlighted above, the beach was also great for wave jumping. They were quite sizeable waves, meaning you might be able to have a crack at surfing, however most opt for Weligama when trying that out.
We also managed to see a monkey jump out of a tree and run in front of us, the first of our trip in Sri Lanka. However, Raquel being a dog lover, her favourite part was still heading onto the hotel beach and feeding the local dogs that live out there. They were incredibly cute and friendly, while they didn't see no to a biscuit or two.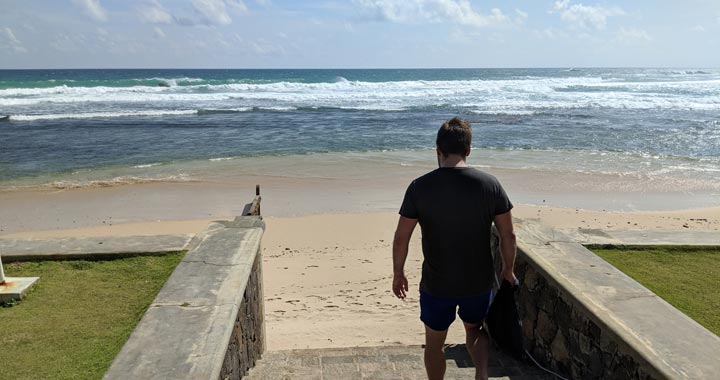 The Pool
The swimming pool was a decent size with a bar right alongside it, meaning you can order a drink straight over. The hotel also isn't overcrowded, meaning you don't have to worry about sharing the pool with others.