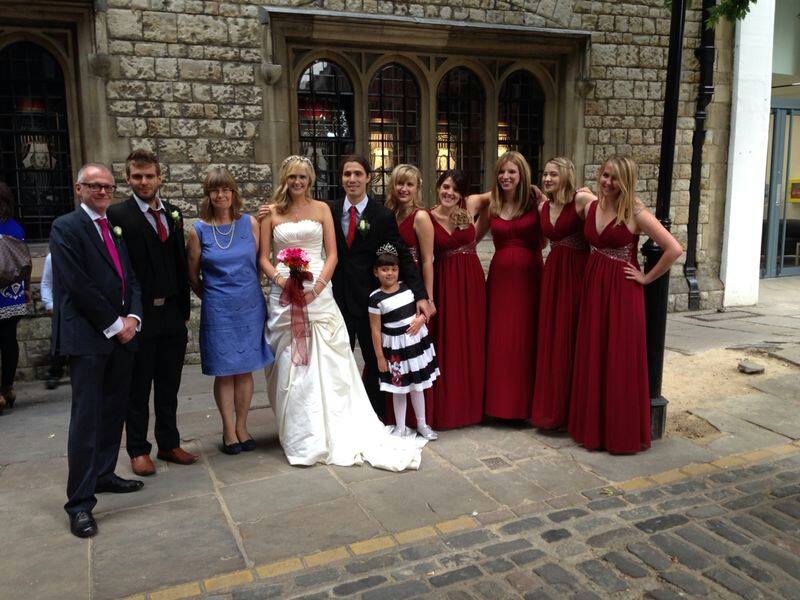 I plan on making a video of the entire day, collaborating all the videos into one mix, but that will have to come a bit later.
I recently attended Jenny (my big sister) and Marcos's wedding at St John's Gate. I was chosen as best man, which brought it a whole host of scary factors, but the day went ahead beautifully and was easily one of the happiest days of my life. I've never felt more proud in my life, while Jenny's speech left me in fits of laughter.

My dad held a speech, followed by my best man speech (unfortunately I don't think anyone recorded it), but here it is below:
(buuut if you can't be bothered to read it, here is the video below, without the mistakes)
Ladies and Gentleman, If I could have your attention for just a moment, I'd like to make a toast (lift up bread), I heard that somewhere and promised Jenny I'd say it.
Anyway, I hope you're all enjoying what has been a tremendous wedding celebration. I'd like to thank you all for coming on behalf of Jenny and Marcos, especially those of you that knew I'd be doing a speech, you're brave
I was feeling a bit nervous leading up to this speech and was given a few words of advice. I was told public speeches are like going to a nudist beach, it's only hard for the first few minutes.
We do actually have a translator in the house, as some people here don't have English as their first language, so I will try to speak slowly, if the people from Norwich could let me know if I'm speaking too fast, that would be great. ooarh
Firstly, on behalf of everyone here I would like to say congratulations to Jenny and Marcos. It's great to be involved in the happiest day of Marcos's life, as he was involved in mine. That's right, a year ago he was there, when England beat Brazil at Wembley. Oh I've only just begun, Brazil won't escape today either.
I was truly touched to be chosen as best man, especially as I'm still getting to know Marcos more with every day that passes by, so I apologise for all the Brazil jokes, but they do come naturally.
When Jenny first met Marcos it was love at first sight, so I'm told. Pure and Simple. Jenny was pure and Marcos was simple. It is funny how history repeats itself, I mean it was only 25 years ago Jenny was going to bed with a dummy..
Marcus. What can you say about a man who has travelled the world, a man who is rising to the top of his profession solely based on his hard work, ethics and intelligence. A man who people respect and admire. But enough about me, I'm here to talk about Marcus.
I want to say I feel truly honoured to now call you a brother, one of the Bourlet's, which you might hold against us in the future, quickly Jenny tie him down. I spent my childhood making Katherine into my little brother so she will be incredibly grateful you've taken that spot . No more making her the goalpost or making her drink mud potions from the garden. It's been amazing having you round for Christmas each year, I know we've all enjoyed having you stay. plus it gives us all an extra excuse for a celebratory drink, not that we need one.
This is my first time being a best man, but Marcus has promised me if I do a good job, I can be best man at his next wedding. Sorry Jenny. It is my job to give Marcos the most uncomfortable 15 minutes of his life, except Brazil – Germany.
I know Marcos is a massive fan of football, so my advice to him is to treat marriage like a game of football. You must show 100% commitment, and home is where the heart is. Jenny will also be able to assure you that playing away from home will result in a serious groin injury.. and is definitely the quickest way to get on the transfer list.
Jenny, both me and Katherine have always looked up to you, partly due to your freakish height. you've always meant the world to us and to see you meet someone that makes you this happy has truly touched us. You really are an inspiration to me
I'd also like to point out how great all the bridesmaids look, they are only outshone by the bride, my sister. Marcus you look pretty good yourself, it's a shame you had to copy my clothing though. Will have to call each other up the night before next time. You should have seen his first choice, his clothes would have matched Jenny.
I'd like to thank you all on behalf of Jenny and Marcos for your gifts you have generously donated to the couple. I really did struggle to decide what to get, while we attended my cousin Toby's wedding recently and began chatting about how Jenny's all grown up, got her own house and getting married. The next step was to get a pet. As we got a bit more drunk, we got determined around the idea that I should buy her a pet chicken. As we got even more drunk we lost the ability to talk and began shouting chicken from across the dancefloor. Well, anyone who knows me will know I've never had a pet, but I am a man of my word. So Jenny (pulls cooked chicken out of bag and hands it to Jenny).
It has honestly been an emotional ceremony, I'm determined not to cry, even the cake is in tiers, that one is for you dad (if nobody laughs then say 'waiting for applause' while staring at piece of paper).
I know it has already been mentioned, but it is really appreciated you could all make it for this special day, I know it means the world to Jenny and Marcos. They've been dreaming of this day their whole lives, including Marcos, and being able to share it with the people they love and care for makes it all that more magical.
I also planned on saying this romantic sentence in Portuguese, something along the lines of may all your dreams come true and may you live happily ever after, however Google translator wasn't very helpful, so, Obbligato!
Well, that's all from me ladies and gentlemen all that is left is for me to raise a toast and wish the happy couple all the best for the future. To Jenny and Marcos!
At which point, I had my first drink of the night and drank it all in one. It was incredibly hard to ignore all the champagne and hold off for a good three hours longer than everyone else, but it made that first drink truly a celebration.

It was great to see everyone, from cousins on both sides of the family, to old friends and relatives I haven't seen since childhood. I won't mention them all here as the list was pretty long and I'm scared of accidentally leaving someone out, but I want to offer a massive thank you to everyone for attending, you made the day truly special.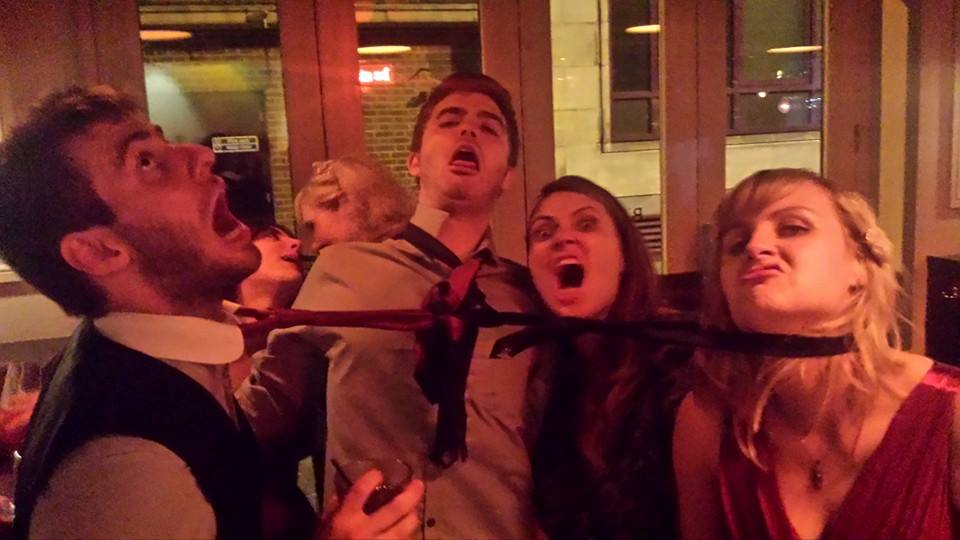 I also want to tip my hat to Kaz, Charlotte and Paulina for making a speeches at Jenny's wedding. I didn't manage to catch two of them on camera, however Kaz's one nearer the start I managed to catch, which can be seen below:

And of course, below is the moment where they said 'I do'.

The final dance at the venue was one specifically chosen by Marcos, Smells Like Teen Spirit, the perfect wedding song! It was amazing to rock out with the family, which you can see below as the couple held their romantic first dance.
But inevitably, this is where the real drinking started and my camera disappeared, along with my ability to take photos, so I apologise for the lack of content for this part of the night, but, well, here is Jenny necking some champagne!

I do honestly owe a massive thank you to Charlotte for offering me somewhere to crash both on the Friday and on the Saturday, it was hugely appreciated!