Ever since visiting Argentina, I've been fascinated by steakhouses. The USA was also home to a huge number of steakhouses in almost every city I visited, but I came back to the UK and could barely find any.
So after much investigation, I've written up a list of the best steakhouses in the UK, so you can get your meat on!
1) Baqueano – Brighton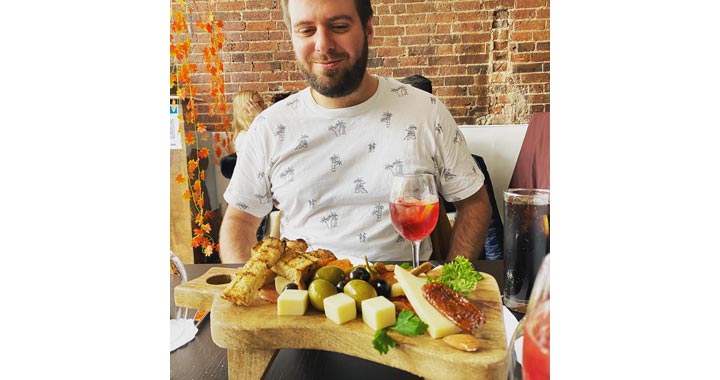 A much smaller venue than some of the options on this list, the Baqueano is an Argentinean restaurant and grill, run by an Argentinean couple who are incredibly friendly and welcoming.
They offer a tasting menu, perfect for two people, however it will leave you beyond full by the end. You can also upgrade it to include wine tasting as well.
The main thing I took away from Argentina was my love for Chimichurri, while this is one of the three sauces they provide with the steaks.
2) Hawksmoor – London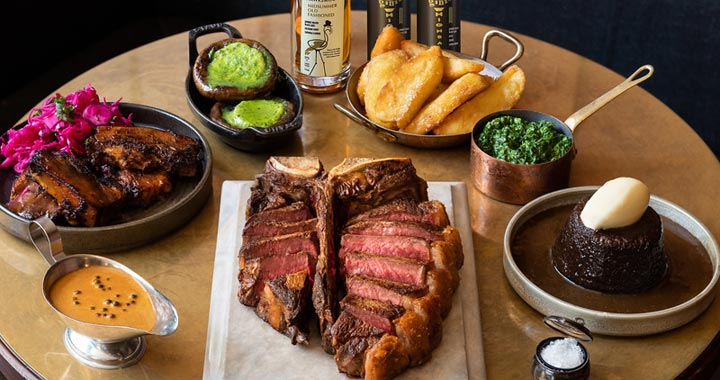 It should be stated that Hawksmoor can be found in a number of locations, including Edinburgh and Manchester, however it has a number of locations in London which are known to be incredibly glamorous.
Starting off in Shoreditch, it quickly became the leading steakhouse in London, which isn't a small claim to fame when you consider how many the big city has!
Offering a fillet, rib-eye, sirloin or rump, the prices will vary between £22 and £36, depending on what you pick.
3) Flat Iron – London
Available in Covent Garden, Marylebone, Soho, Tottenham Court Road, Kiongs Cross, Shoreditch, London Bridge and Spitalfields, the London Bridge option is arguably the most illustrious.
They serve been 'grown in extensive or regenerative systems' from UK farms, with even a truffled Wagyu short rib cheeseburger being on the menu, which gets me curious.
Founded by Charlie Carroll in Shoreditch (of course, it seems to be the birth place of the best steakhouses in London), the prices are very reasonable compared to some of the alternative restaurants in the area. As they say, 'remarkable steak, accessible to all'.
4) The Quality Chop House – London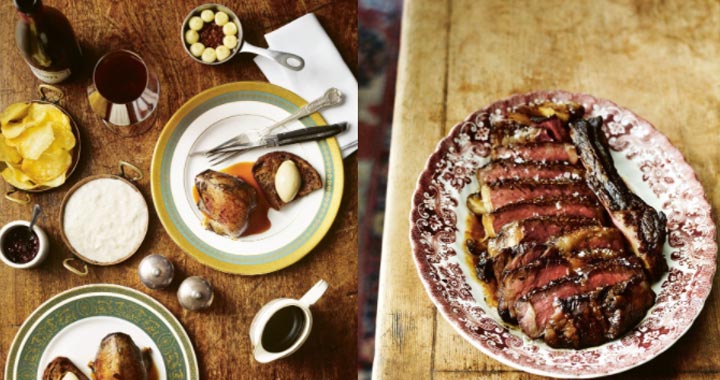 Sorry Northerners, this is another London based option. The Quality Chop House can be found on Farringdon road, known for a great Sunday roast.
Opened in 1869, the restaurant has quite remarkably been standing for over 150 years.
They still have the same head chef in the kitchens from 2012 (Shaun Searley), ensuring a consistent level of quality. You'll find an a la carte menu for lunch and dinner, as well as a cellar list of wines. You can also get a voucher for here as a birthday present for someone special.
5) The Wild Boar – Kendal
If you've gone for a summer holiday exploring the Lake District then this is the perfect venue after a full day of walking to rest your feet and try some exquisite food.
The Wild Boar also has a hotel, so you can stay directly along the Gilpin Valley, before heading down to the Grill and Smokehouse.
You can pick yourself a fillet steak, a ribeye steak, a porterhouse dry aged for 40 days, a T-bone steak or even a 35 day dry aged beef Tomahawk.
This venue can also host weddings, conferences, plus you can enjoy afternoon tea here.
6) Pasture – Cardiff
The Pasture Restaurant has a location in both Cardiff and Bristol, however it's the Cardiff venue that has the huge reputation as one of the best steakhouses in the UK.
They staff are happy to showcase the 'house cuts' directly to the table, guiding you on the best cut for you, depending on what you're after.
With a coal and cherry wood fire, the steak is beautifully cooked and the taste will blow your mind. I'd recommend booking a table in advance if you're heading there for a Friday or Saturday evening.
7) Cowshed – Liverpool
Open from 4pm-10pm on week days and until 10:30pm on the weekend, the Cowshed is a favourite for Liverpudlians looking for a high quality steak.
You can enjoy a flat iron or fillet along with a great tasting side of sweet potato mash or garlic mushrooms with truffle butter.
The venue feels very luxurious, with cosy purple seating and some truly bizarre art behind the bar.
8) Rio Brazilian Steakhouse – Newcastle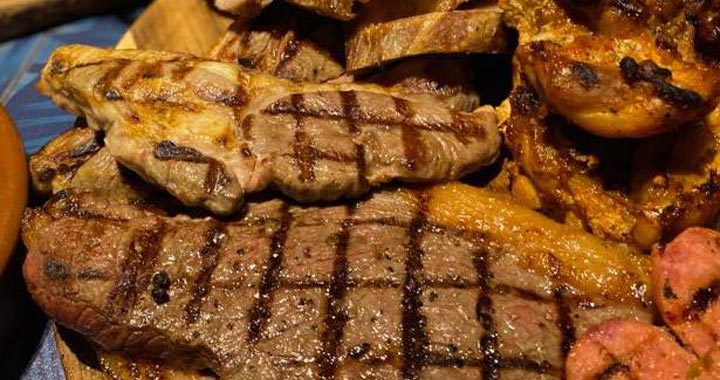 Now with a venue in Middlesbrough that has performed just as well with Geordie locals, the Rio Brazilian steakhouse takes you on a South American culinary journey.
Serving a filet mignon, or a variety of other cuts, they also cater for the members of the group who are less keen on beef, with lamb, pork, chicken and vegan dishes available.
The meat is carved table side, while you get to choose how much you want, giving you control of what your stomach can handle.
9) Mugshot Restaurants – Bristol
This is a 1920's themed British steakhouse, with some really cool décor. I heard the name Mugshot and didn't think it would be great, but wow did I get this place wrong. It's beyond classy, while you can get some scrumptious beef dripping steak sauce along with your steak.
I love the fact that you can pick the butter of your choice, including honey, garlic, smoked cheddar, Dijon & chive, mint or onion.
You can also pick the sauce of choice, including beef dripping, wild mushroom, gorgonzola, peppercorn, red wine, or my favourite, chimichurri.
But another that caters for those non-beef fans of the group, they also have a range of pizzas
10) Miller & Carter – Glasgow
This Scottish venue offers 30-day aged British and Irish beef, while they've also adapted to the pandemic by offering delivery, meaning you can enjoy that gorgeous steak from the comfort of your sofa.
Depending on your budget, you can pick the steak of your choice, including a sirloin, fillet, ribeye, T-bone or rump.
Of course, my eyes drifted to the garlic bread with melted cheese, the perfect accompaniment to a great steak (if you're not too full).
You can even finish off with a Banoffee pie or a gigantic chocolate fudge cake!