—
What a dining experience!
Being able to enjoy giving your own dinner party without the hassle of having to do the shopping, cooking or washing up! That's exactly the experience me and Tom had last night. We invited My dad and sister and their partners for a pre-Christmas dinner party. We were able to spend 100% of our time with our 4 guests because neither of us had to be in the kitchen cooking, serving up or clearing away. We could enjoy the 3 course meal without any pressure.
La Belle Assiette contacted me to see if I would like to try their service. Chef's Hannah Milsom and Sophie Davies arrived one hour before our guests to do the final preparation, but they had been preparing for our dinner party since mid day that day in their own kitchen. The quality of the food showed the amount of preparation that went into doing it.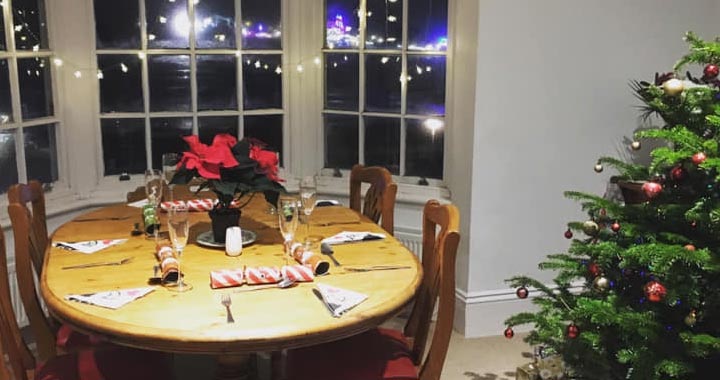 We greeted our guests with prosecco and sat them down to a pre-starter board of fresh olive bread with olives and prosciutto. This tasted unbelievably nice and we were more than appreciative, however it could be argued it probably wasn't necessary because the 3 courses were all substantial in nature.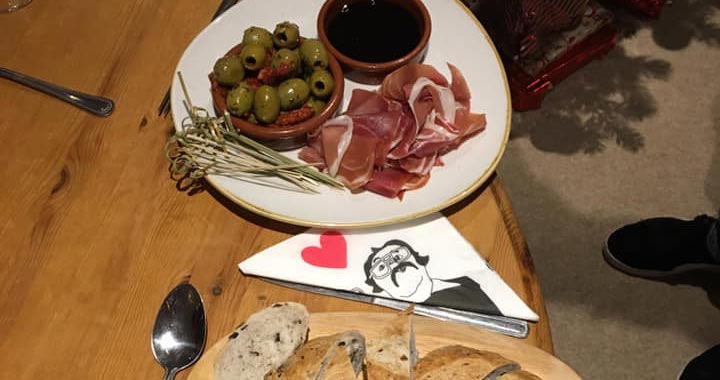 Our starter was an Oxtail tortellini with a cep broth with truffled spinach, mi cuit heritage tomatoes and a horseradish cream. This was a delicious earthy starter given a surprise sweetness by the sun dried tomato.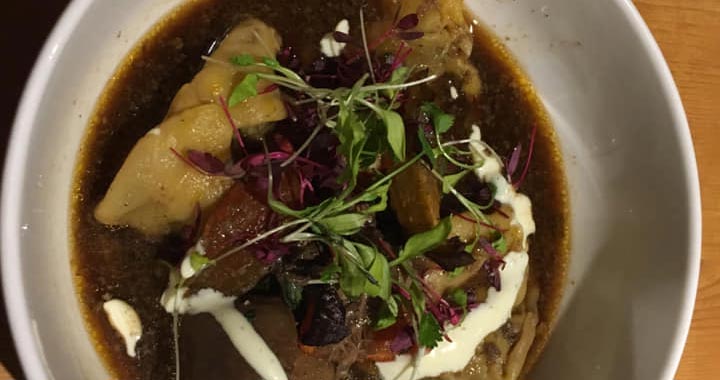 Our main course was Guinea Fowl 3 ways. It contained a pan roasted breast, a beautiful confit leg bon bon topped with nigella seeds and a stuffed potato cannelloni served with a rich caponata and Madeira Jus. I had never tried guinea fowl before so this was a new one on me and I would definitely choose it again if it was on the menu.
I have to admit, I wasn't aware what the 3 ways meant, but it felt very obvious once she explained that it just meant the meat was cooked and made into three different dishes all served alongside each other.
Our meal was finished off with an Italian trio of lemon desserts. This included a limoncello posset topped with basil granita and Italian meringue that was everyone's favourite, a gorgeous amoretti cookie topped with Amalfi lemon syllabub. The third dessert was a Sicilian lemon and olive oil cake with rosemary infused mascarpone cream. Any one of the desserts on their own would make a lovely ending to a 3 course meal.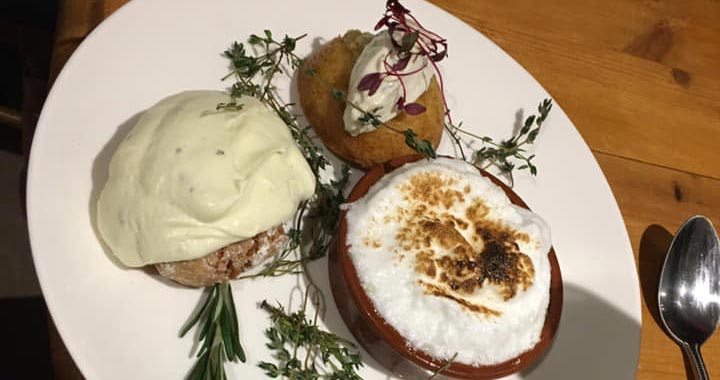 The meal works out at £59 per person and given all the tempting fare we were given this is good value for money. You could not say that the portions were not generous. The number of different cooking techniques that had been deployed in the preparation of the meal was impressive, it really did wow our guests. Sophie, served our meals very affably, we sensed that Hannah was shyer and wanted to stay out of the way in the kitchen.
Our meal was complete by 9.30pm and the chefs had disappeared by 10pm leaving us all to get very merry and to talk about how lovely the meal was. I am still in disbelief that they leave the kitchen cleaner than when they arrive, a huge hats off to an amazing evening thanks to La Belle Assiette.